This instance was with Anabel Montesino's Guitar recital.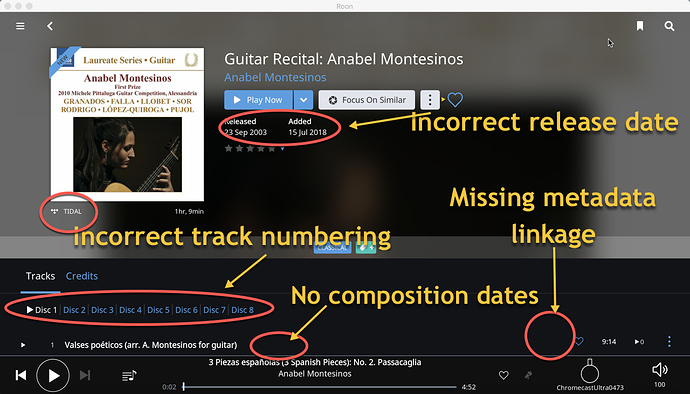 When Roon imports this from TIDAL, several incorrect things occur:
The album is officially deemed IDed in Roon. But upon examination the album is IDed in name only. Roon does not display: the composers; the performance dates, locations; label; category no…
Each work is on its own disc (8 total) although in reality it is only one disc.
Probably because of the above faults, no rich metadata linkage is present.
I am pretty sure there is one and only one version floating out there. None is mentioned anywhere, at least.
I wish I could say this was occasional, like a typo in one track title. But it is quite frequent. And, it is long lived. I noticed this when I first joined over six months ago, and I think I reported it (I can retrieve the message if it would be helpful).
To me, this kind of bug goes to the heart of Roon's value proposition: delivering integrated metadata to enhance the user listening experience, and delivering it "automagically".
I really don't understand why this doesn't get fixed, except, of course, if I've made a user error of some kind.
Anyway, more documentation for your files.