Thinking of going 'budget' and adding these to my Meridian Explorer2…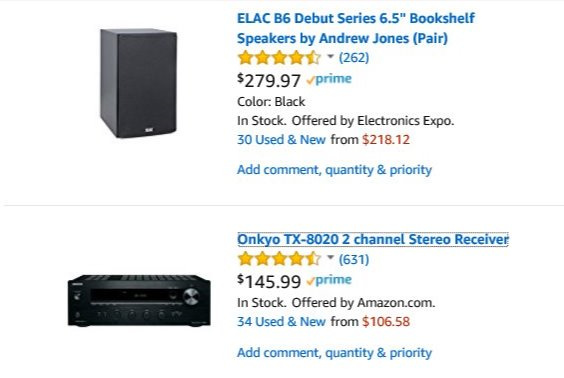 That will be a nice little system so long as your room isn't too big. Think about decent stands for the speakers as they will make a big difference.
That Onkyo amp isn't at all bad in terms of quality.
it'll be about a 10x11; wife's gonna let me have the fourth bedroom. Thanks for the tip on stands… good ones could double that budget though.
Not sure where you are but second hand is always a good call for ancillaries like stands. Also take some care with a bedroom because, assuming you are upstairs, you will be on floor boards which can create issues.
I appreciate your advice. It'll be a first floor room, most likely carpeted but I understand I have to be sensitive to the flooring situation. I'm thinking the SANUS NF24B's will work, they come with good options for hardwood or carpet. I read that Andrew Jones recommended 24" stands for the B6's
.
In my office I have been playing my Explorer 2 with a pair of Creative computer speakers and it's sub.
I'll tell you what, it don't sound bad at all. You really notice MQA here lol
Right? I'm playing 90% TIDAL files anyway, I think the ME2 is plenty of DAC…
Height of the stands sounds about right, but will depend on your listening couch/chair as well.
Seeing Andrew Jones was involved in the design I'm sure they will be very nice speakers but you may want to go out and listen for yourself as a preference for certain speakers and sound signatures is very personal (there are many different 'neutral' sounding speakers).
If I get the chance I'll try and do some comparative listening. The kef q350 is another I want to hear. I'm relocating by about 6000 miles at the end of this month. I will have to find a house and then start filling it up with stuff. right now I'm just putting various price points in my head. I had been thinking the ls50w were a slam dunk but I'm seeing a lot of issues in here. We'll see how this roon integration upgrade works out.