You're right John. Roon picked up the rating, track picks and genres, but not the review that's there.
Cheers, Greg
This calls for a "Private Investigation"

Noticed this as well in a few occasions. Re-identifying fixed it for me, but still weird.
[quote="allineedis, post:3, topic:12859"]
Re-identifying fixed it for me.[/quote] Hopefully this isn't what's necessary to fix these kinds of issues, because this isn't an isolated instance. I'd hope Roon periodically polls data points against its database, compares against a user's local instance and enriches as necessary? @mike?
I added this album as a favorite through Tidal. Re-analyzing, identifying, re-identifying, re-scan, etc. didn't bring up the Artist Bios, etc.
We'll check it tomorrow…Back to Blue Oyster Cult, "On Your Feet or On Your Knees" / 1975 Live
Re-identifying made no difference, still no review.
SJB
Did listen to the album though…enjoyable.
OK, re-dentifying will not change anything for the Dire Straits album. Did not even know that mine is also missing the review.
To my surprise when using the inspector, I have 621 albums without a review. A lot can be explained (bootlegs, rare releases, etc), but there are also regular albums in that list (that have a review on allmusic).
If I recall correctly, the few occasions I was hinting at where fairly new Tidal releases, so maybe there was no review at the time when I added the album to roon and I simply re-identified when I noticed the missing review. Just needed to mention this so that I don't inadvertently send somone on a wild goose chase.
908 of 2213 without reviews
within a lot of standard stuff like 5 regular albums of Barclay James Harvest, some AC/DC, Anastacia, Blackmore's Night, Joe Jackson, Joan Baez, Jon Lord, Neil Young, Oletta Adams, 13 regular albums of The Blues Band, everything from Sally Oldfield, 10 albums by Tony Joe White, even the Blues Brothers Soundtrack has no review
I understand that my more exotic albums have no reviews, but the above mentioned stuff is not really rare stuff

607 of 2519 without reviews.
To make it a bit more revelant I foucsed for identified as well and there are 459 identified albums that have no review. This seems a very high amount indeed.
Now that I'm looking at the list I see albums that i thought did have reviews in Roon previously so this may be a bug of sorts.
There is just too many inexplicable ones like this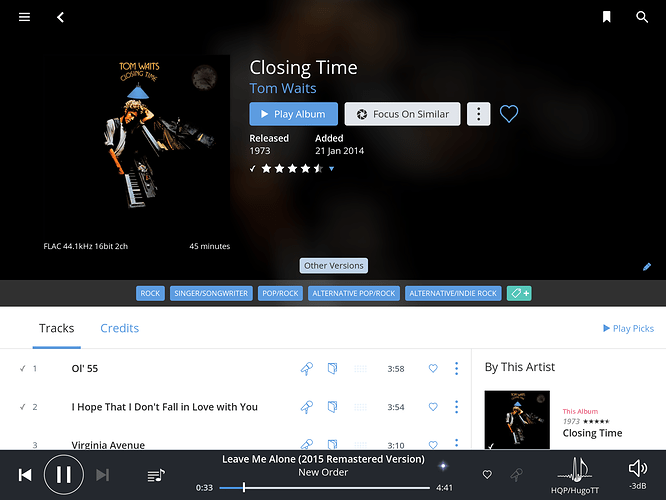 v
SJB
great album, also no review in my library.
Maybe @joel missed the first call?
SJB
I know Joel was looking into this issue last week, but he's travelling this week. I'm sure he'll respond when he's back.
As I mentioned elsewhere, some of the work behind the scenes over the last few months has focused on building new infrastructure needed to test and verify big sweeping changes. Now that we have that infrastructure in place and @joel on board, work like this is in full swing.
Keep the reports coming guys – I'll update the ticket with a link to this thread now.
already reported this one months ago… still no review
Any update on this?
Some albums that I'm sure had reviews before do not have them now. I'm not a 100% sure they had them before, but I think they did and they disappeared at some point.
Yes I suspect that also but have no hard and fast proof.
SJB
No change here. Not a single new review in the last two weeks.
Can we expect something happening here in the not too far future?
I posted some general information about the status of metadata work here:
Long story short, there's a lot of work happening right now to get to the bottom of some long-standing issues, and the fixes frequently touch thousands of albums or more. We do not roll out changes like that without taking time to carefully and methodically verify them, and that work is in progress as well.
The frustrating part for all of us is that it gives the appearance that nothing is happening, but nothing could be further from the truth, and I'm sure @joel will be giving everyone updates as he prepares to put the first big round of fixes live. If these missing reviews were easy to fix, we would've done it long ago