Core Machine (Operating system/System info/Roon build number)
Intel NUC
Network Details (Including networking gear model/manufacturer and if on WiFi/Ethernet)
Connected over Ethernet
Audio Devices (Specify what device you're using and its connection type - USB/HDMI/etc.)
iFi Zen DAC
Description Of Issue
Since a few days, there's a wheel running in the upper right corner of my Roon endpoint. Clicking on it gives me this information: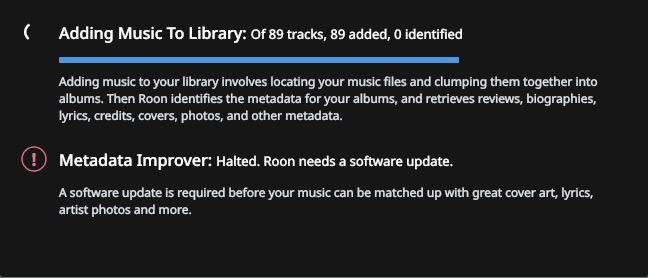 Also, I cannot access anything in Tidal except the stuff that has been added to my library. For instance, if I search for Patricia Barber, I get two albums that are in my Library, but nothing else. When I open the Tidal App on the same Mac the Endpoint is running on, everything in Tidal works perfectly well.
I tried so far:
Restarting the server
Reinstalling ROCK and restoring from a recent Backup
Deleting the Roon Cache
Nothing helped.
The malfunction came without any reason, I didn't change anything in my system.
Please help!