Flagging @support as I'm getting much more frequent TIDAL issues. No issues with local files by the way. Or with the TIDAL app for that matter.
The issue
The dreaded "TIDAL media is loading slowly. This may indicate a network problem" (I doubt it) and "This track is currently not available on TIDAL" (yes it is). I haven't had these issues for years. Now I'm getting them almost every day. Around the time of the 1.6 release, but that may very well be a coincidence.
My setup
My entire network is wired with cat6 cables. My ISP provides a 1Gbps connection (effective speeds around 750-950 Mbps). For more detailed info about my setup, see the diagram below. The networking equipment is 1x Ubiquity USG -3P and 2x USG-8-60W.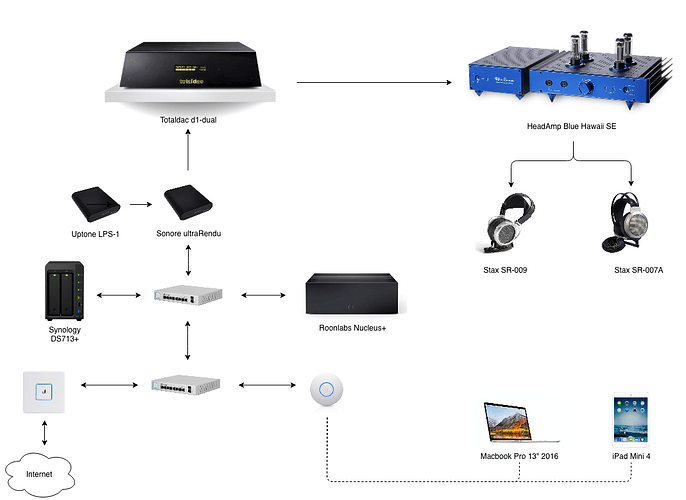 Debugging
Things that I have tried so far:
Rebooting all devices (networking equipment, totaldac, nucleus, …)
Using direct USB connection between totaldac and nucleus
Clearing Tidal cache on the nucleus (multiple times)
Switching out the router and switches with Linksys devices (unmanaged)
What surprises me is that for a given track it often stops around the same time, even after clearing the cache. If it really were a networking issue, I would expect it to be more randomly. With certain tracks I can almost always reproduce the problem, with other tracks (from the same album) it will work like a charm. And again, I'm clearing the cache for this to be sure there's no cache corruption.