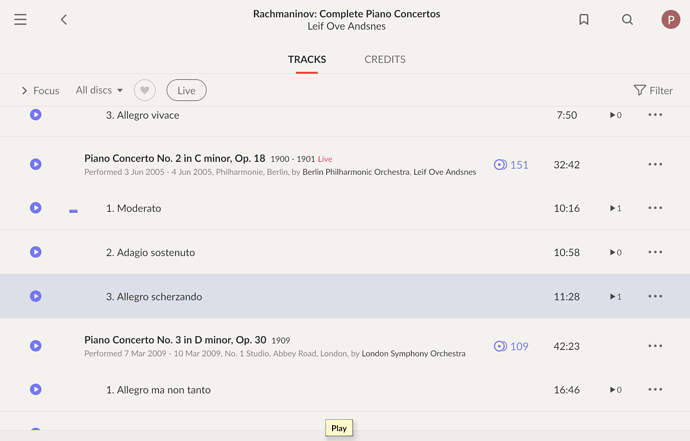 Core Machine
64 bit
Mac OS X 10.13.06
Core running on Late 2012 Mac Mini, 16 gig RAM, 2.5mGhz i5 processor
Network Details
Hybrid wireless/wired network with wireless clients connected via EERO mesh network but ALL audio devices are connected via ethernet.
Audio Devices
Files delivered via ethernet from from drobo > sonore optical module > sonore optical rendu > PS Audio Directstream DAC > Aesthetix Janus > Audio Research GS150
Library Size
15000 TRACKS
Description of Issue
Occasionally tracks from Qobuz will play properly on the local Qobuz web player or via the Qobuz app but will NOT play on Roon. The SECOND MOVEMENT of the Rach Piano Concerto 2 DISPLAYED IN THE SCREEN SHOT ATTACHED WILL NOT PLAY on Roon, either selected individually or in a queue. Plays fine on the Qobuz app. This happen enough with other file to be truly annoying.