Since this was such a slow news week at Roon, I figure I'll use the dead air to submit this metadata issue…

Not sure how to unpack or fix all this or where the issue lies, so I'll just report what I'm seeing and we'll go from there.
Goose #1 is a Belgian band formed in 2000: Goose | Biography, Albums, Streaming Links | AllMusic
Goose #2 (the one I care about) is an American band formed in ~2016 (note that Allmusic doesn't list all their albums for some reason): Goose | Album Discography | AllMusic
If you go to the Roon artist page for #1, there are albums from #2 mixed in. FWIW, the Songkick tour information is for #2.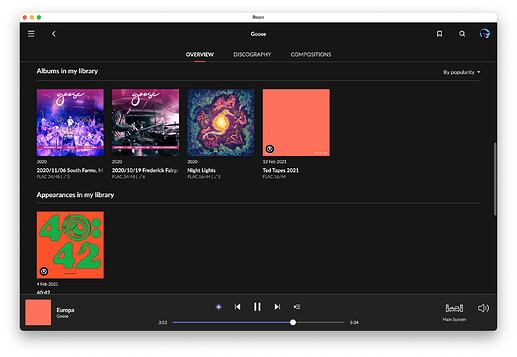 All the albums shown in the screenshot above are from Goose #2, despite being on the Roon artist page for Goose #1.
But not all the albums from Goose #2 are listed under Goose #1. There is a Roon artist page for Goose #2 that lists these other albums. (And there is no Songkick tour info.)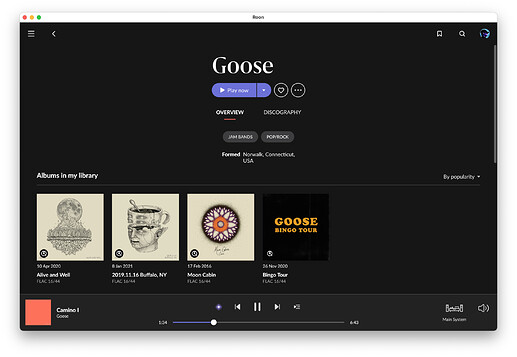 So, not sure what other information would be helpful or where these issues need to be resolved (Roon? Allmusic? Tidal/Qobuz?) Happy to provide anything that would be useful…
Thanks.