Core Machine (Operating system/System info/Roon build number)
Roon Optimized Core Kit / NUC 10-i7 / Version 1.0 (build 227) stable / Version 1.8 (build 764) stable
Network Details (Including networking gear model/manufacturer and if on WiFi/Ethernet)
Wired, Ubiquiti switches, PfSense Router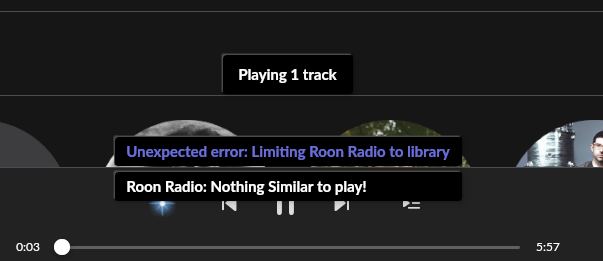 Audio Devices (Specify what device you're using and its connection type - USB/HDMI/etc.)
Windows 10 with NI Komplete Audio 6
Description Of Issue
Getting message after playing fine for several hours : "Unexpected Error: Limiting Roon Radio to Library". Restarted client, still the same message.
After core restart, radio seems to work but only on local files, not using qobuz. I can however play tracks from qobuz without issue, but radio fails on all qobuz tracks.
It seems Radio is limited to local library only.