If I install Roon Server on another machine, and I use the Roon Data backup that I created two days ago, will that in anyway mess with the NUC installation later on, should we find a way to restore it?
oh wow, so its finding it sometimes and not other times? is the roon os installer finding the disk now?
Before I used the new ROCK build I was able reliably boot using the build media and perform a "Recovery", I did that a couple of times today, rebooted and was able to access the Web UI, however I noticed that immediately after the successful boot, the Roon OS goes into an update and once that is finished all hell breaks lose again…
After I updated the Roon OS build on the USB Drive, I can no longer get to the options to perform either the recovery or the new install… the BIOS on the NUC still reports that the SSD is there.
Roon OS does not update automatically – are you hitting update?
Ok so the recovery went fine. Rock booted up. I had to deauthorize my previous install and authorize this install. I did that and logged in. Everything looked great. Got the update message again. Selected update. I have now been looking at a Lost Connection trying to reconnect message for the last three minutes. So. Either this last update takes longer than 3 minutes or it screwed up my install again.
No, I am not hitting any update, I never get that option…
While I continue to try and recover the NUC and the setup that was there, I have installed Roon Server on another windows machine that I have in the house, however it is asking me to "unauthorize the ROCK device"
Is it safe to do so without losing anything that is on the NUC? Does the backup that I have (the Roon Data backup) maintain all the audio device and library settings?
what recovery did you use? did you re-download it or use an older recovery?
after the latest recovery, you should not be getting updates
why do you think it's updating then?
yes, you can always unauthorize safely.
After I rebooted, the Rock showed me a successful IP address was obtained, I switched to another PC, and managed to see the Web UI, at the same time I took a peek at my phone, and there I could see the update taking place with no option to cancel it… (screen here)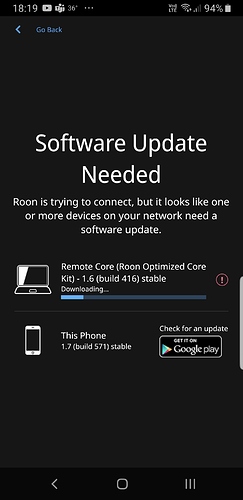 please redownload the recovery – you are running a very very old recovery.
I downloaded your current install disc and flashed it to a USB with etcher. I did not use an old install. I used recover. After restarting I chose update per your instructions. The system has not come back form the update after 15 minutes so I am going to reboot it since it is not outputting to the HDMI.
I will step through it again but NOT UPDATE.
if you redownload latest, you will not "update" – it has latest code on it. please re-download.
I downloaded from the link you provided in this thread, how can it be old? I also flashed a new Flash drive and it is exactly the same… could it be that you have an old build on the link you provided?
I downloaded form the site. But can you send me a link so we are talking about the same thing?
Two hours ago I downloaded the image on the site and it was 219 now it is 221. WTF?
Ok, so 219 saw and recovered from my SSD without a problem. 221 does not see the less than 1 year old SSD. It sees the music SSD but not the system SSD. Do I go back to 219 or what?
tell me about your rock system… sorry if you have said this already, but i'm juggling a lot of things right now

NUC model? m.2 ssd model? internal drive model? anything else attached?
Hi Danny,
One more datapoint. I went to the bios and it sees the SSD. I have the nuc model that I mentioned above the N8i7BEH. I have Transend PCIe TS256GMTD110S SSD for the system (overkill but it only cost a few pennies more and I figured it future proofed) and a 4gb Samsung 850EVO SSD for music. All internal to the AKASA case. This was all set up new in March of this year so it is not even a year old. Nothing attached to the box other than an ethernet cable.