We got new logos directly from Radio Paradise staff, we also updated station description and localisation.

RP staff have decided they prefer logos with white background and have sent the replacements. I have updated them.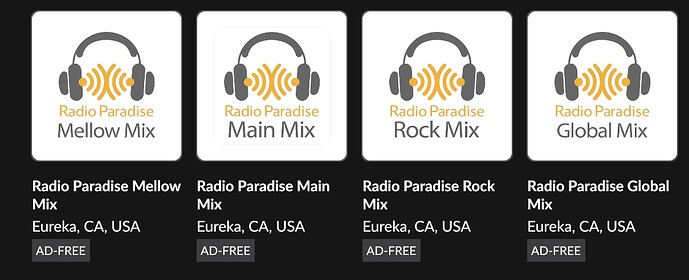 Now that the metadata service designed by @alec_eiffel is active on the RP stations, the …/flacm streams are no longer required, and, being somewhat unstable, have been removed. The …/flac streams are fine.
The metadata for me is not updating or refreshing with a new song.
Anyone else have this trouble, suggestions?
Thanks
Check that your core is running the latest version
I'm having the same problem, running early access. The Mellow Mix sometimes shows the same info for several songs, or shows nothing at all for a song when I first select the station. Seems a bit hit-and-miss. Other stations seemed fine in the brief time I tried them.
I've already rebooted the system but haven't seen an improvement. Odd that it seems to only affect RP here.
Michael
EDIT: Scratch that - I've got BBC Radio 2 on now and the metadata on that is intermittent too.
Mine is refreshing but it takes a bit into the new song for it to update. (Rock Mix).
Will check the other streams.
Another note is that I am using the FLAC stream, reported as lossless on the signal path.
All the ACC streams are reporting as "lossy" in the signal path.
Edit: The streams seem to refresh after 30-45 seconds for me. Except the Global stream does not show metadata for the tracks playing, at least for me.
Thanks for the link, @alec_eiffel. I'd missed that thread.
Michael
This one was my mistake sorry. I had changed the name from" World Etc." to "Global Mix" and forgot to flip a switch somewhere… This is now fixed!


yep, looks like it is working now. Thanks.
I am using main mix FLAC stream and data rarely updates - sometimes every 5 or so songs, sometimes it just freezes on one song and doesn't update.
Mine is working again tonight for Main Mix. Nothing else changed. Hope its stable for everyone.
Radio Paradise as well as JB Radio-2 are still not updating reliably for me. Sometimes 2-3 tracks behind the stream. Very disappointing…
Indeed. It's a bug, @noris reported there is an open ticket for it.
Hi
Does anyone know if Roon is going to support the interactive streams ?
I know this has been commented on in the past but I play RP most days all day and really miss the ability to skip tracks.
At the moment I use LMS to stream as this has a free third party plugin that supports the interactive streams and works flawlessly ( so I can't imagine it's that difficult ? )
Although this sounds relatively trivial it is a deal breaker for me and I would love to use Roon
Hello @Freda_Chow , as far as I know, Roon has given no indication that it is looking at this.
RP's interactive service works by having separate URLs for each track. I have no idea if this would be easy to incorporate.
I agree Freda, this is a feature that I'd love to see in Roon