Hello support team,
I'm currently evaluating Roon for a multi-room environment at home, and I'm finding a key issue when trying to integrate with my (USB DAC)/amplifier which makes it basically unusable in my home. Hopefully this can make its way into a fix quite quickly…
Core Machine (Operating system/System info/Roon build number)
Linux (ubuntu 20.04 LTS) / kernel 5.4.0
Roon 1.7 build 555
Network Details (Including networking gear model/manufacturer and if on WiFi/Ethernet)
QLogic Corp. cLOM8214 1/10GbE
Audio Devices (Specify what device you're using and its connection type - USB/HDMI/etc.)
Rotel RA-1570 over USB (ID 278b:3001 ROTEL Rotel PC-USB)
Description Of Issue
When the amplifier is turned off, the usb device is disconnected.
When the amplifier is turned back on and the USB device re-appears it is not connected automatically to Roon, instead Roon shows is as "Device not found" until manually retried.
Expected behavior
When the device comes back online, it becomes immediately available in Roon without manual intervention.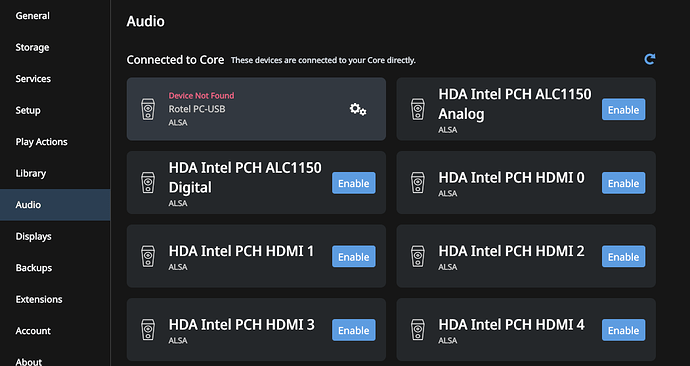 Regards,