[User interface] How can I have Roon play a playlist continously? I find shuffle, but not continous play.
In the queue you select repeat…careful it stays on until you turn it off again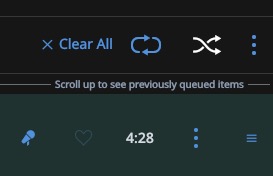 I checked the loop icon. What will be looped now? The particular playlist( 6 tunes ) or the full queue( about 8000 tunes )?
Looks like the latter 6, not sure how you set the starting point. I tried "Play from here" on the 7th from the bottom now.
First, you'll want to click the arrow next to Play Now and choose Shuffle — This will then add all of the tracks from the playlist to the queue in a random order: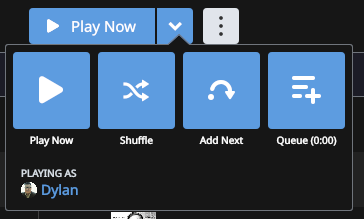 Next you'll want to enable the Loop icon as @wizardofoz suggested above. After this things should work as expected. If you're still seeing issues can you share some screenshots of what you're doing?
This topic was automatically closed 365 days after the last reply. New replies are no longer allowed.