Core Machine (Operating system/System info/Roon build number)
Nucleus +. Presume latest version, I do not know how to check with newer software.
Network Details (Including networking gear model/manufacturer and if on WiFi/Ethernet)
Wired to Google WifI, tested bandwidth 178 Mbps. Not an issue
Audio Devices (Specify connection type - USB/HDMI/ect.)
Internal SSD. Output device is Naim ND555, Naim NAP 252, Naim NAP 300, speakers: Harbeth SuperHL5Plus
Description Of Issue
Connecting to /Internal Storage/Data/. I am now asked for User Name and Password. The User Name was pre-filled, with the password field blank. I attempted my machine (iMac) admin password and it failed.
I can connect as Guest with no password.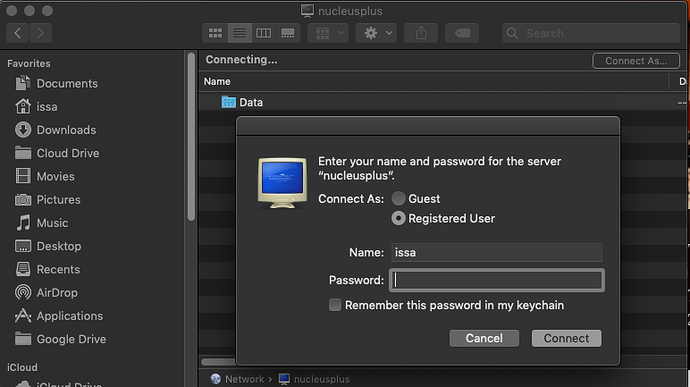 .
With Guest, I can delete and move files.
Not understanding this thing on account privileges. I never set a password as with the original setup, if memory serves, I was not asked for one. Now I do not have a clue how to set or reset. It appears that I can do all file management from Guest, so what is the purpose of this or remedy for it>
melissa