Hi all,
Wanted to share a setup I did and found working quite well but I have further questions regarding more advanced setups:
I have a Celestion 6000(very old) system with the system controller and 2 subs. Since the subs are dual opposed open baffle subs(they cancel out lower bass) but sound terrific with my Magnepan LRS.
But the System controller that is needed to boost the bass 6db/oct doesn't do a very good job for the 100hz HPF to play with the LRS. I had to find an alternative and my best result so far was using roon to bypass it completely. I did lose the ability to play my Turntable with this system as Roon is Digital/Tidal only. A MiniDSP could do the same but I would probably have a bad experience with the DACs built into the minidsp.
**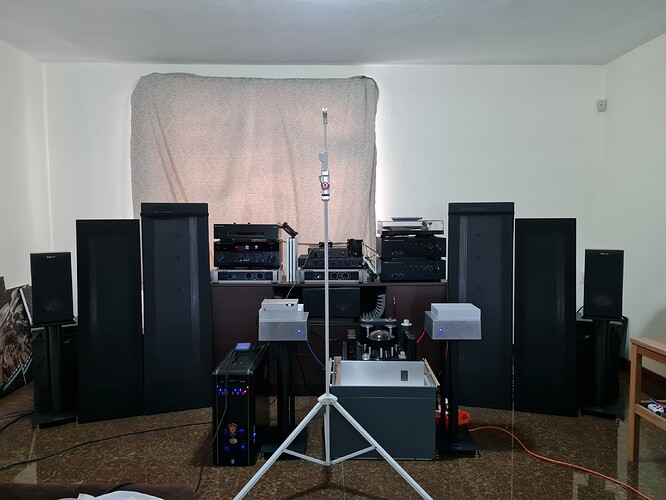 **
Here's the current setup:
Tidal>Roon v1.8>DSP settings with two linked Zones. The first zone is being used for the LRS with HPF and the 2nd Zone with the SUBS with an LPF+REW
Zone1>SMSL SU-8 v2 DAC with 2 xES9038Q2M chips>Roon DSP with HPF of 50hz 12db/oct>AMP 2 x Monoblocks Hypex NC1200>speakers: Magnepan LRS or MG12QR
Linked Zone2>Topping D50 DAC with 2 xES9038Q2M chips>Roon DSP LPF 70hz 36db/oct and added REW filter via Convolution option>AMP-Cambridge Azure 651W>2 x Celestion 6000 Dipole Open Baffle subs
Main Question:
Are there sync delays between the two DACs when linked in the zone? Ideally RAAT handles this. I haven't been able to find which settings I need to use for the Clock master priority levels to ensure one zone doesn't drift apart from the other since I use both at the same time for Main+Sub
Given roon handles a maximum of 6 zones(or is there no hard limit?), could I use a setup like above to make a completely active speaker setup(Zone 1 for Highs,Zone 2 for Mids,Zone 3 for Lows,Zone 4 for subs). A 4 way custom active system with no physical crossover
Would using exactly the same DAC for each zone help for synchronising the groups? Like above I have two different brand of DACs but with the same chips being used. Does that help?