Roon Core Machine
Core: W10, Surface, Intel I5, RAM 8GB
Client PC: W10, Asus, Intel I7, RAM 16 GB, ← this machine is having the issue.
Both Roon.exe and Raatserver are set as exceptions in the ESET.
Roon core and Roon client PC are runninn on W10 client and on Roon version 1.8 (build 898 stable) 64 bit.
Networking Gear & Setup Details
Netgear 7000, Ethernet connected, Synology NAS 920+ storage.
Connected Audio Devices
Client PC is connected to USB KEF300A. KEF300A is set as default sound device in W10 and works fine with other appliations
Number of Tracks in Library
26.000 tracks
Description of Issue
Since this afternoon 2/2/2022 the client PC is unable to connect to the default KEF300A USB speaker system. the KEF300A is not listed as the sound device. See the screen shot.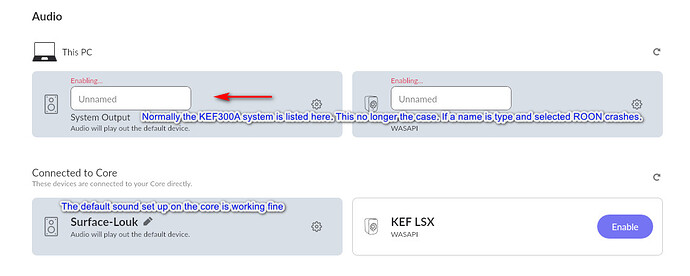 If a name is entered to enable the default sound device Roon crashes instantly without an error message.
I have deinstalled and reinstalled the client, not solving the issue.
Other clients (two android clients and mind180) are operating fine (connecting to the core and playing tracks). These other clients can be controlled via the W10 PC which is currently not able to select the sound system.
Since I am using ROON most frequent on this roon client (W10, PC), I really hope for a solution asap.
Thank you in advance.