I live in the US and I mostly listen to jazz.
Thanks
Jazz for me.
Blues rock for my wife.
America!
Australia.
Both kinds. Country AND Western.
(Also Jazz, Classical, Rock/Pop, Electronic, Soul, Funk and Folk)
UK
Most anything except jazz and contemporary rnb.
California, World Music such as Mariachi, Tex-Mex, Gypsy, Flamenco and Samba. Jazz and Rock'nRoll in the gaps.
Netherlands
Alternative, singer songwriter, psychedelia, folk
Netherlands.
Black metal and technical death metal.
I remember spending a happy hour looking at the metal genres after one of your early, What are you listening to, posts.
I am glad to 'hear' it was a happy hour.

It was a whole new area for me, when I was in my teens in the 1970s it was just metal.
I was quite taken with Pirate Metal actually.
My brother loves 'pirate metal'.

Canada.
Mostly rock/metal, but also classical, singer-songwriter, and electronica. But I'll listen to pretty much anything but bro country and rap/hip hop/contemporary R&B TBH.
I'm from Belgium
Alternative Pop/Rock, Indie, Singer/Songwriter, Styles like Ane Brun and Vocal jazz kind of Dianna Krall and some classic music
England here, mostly punk and SKA but enjoy loads of other stuff from rock to 80s.
Erm, there's a Google map for Roon users to mark their location, and the map pin can also include their preferred genres…
Like so: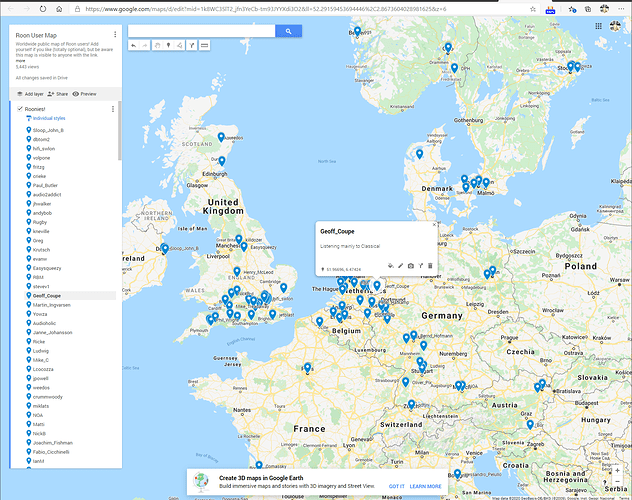 I have been resisting pin pointing myself as I'm in the process of moving, although COVID has turned it into a marathon. For now this thread with just England fitted my situation.
That's really cool, thanks.