Roon Core Machine
!-- Include your operating system and machine info (Model, CPU, RAM) →
MacMini late 2012, QuadCore i7 - 2.6 GHz, 16gb RAM, MacOS 10.15.7, connected via Cat6 to Netgear 8 port gigibit switch
Networking Gear & Setup Details
ISP router Arris NVG468MQ running in transparent mode connected to Orbi RBK23 router/WiFi AP with 2 hardwired Orbi RBS20 Satellite AP's. There are six Netgear GS108 switches thoughout the house where remotes might be connected. ISP is Frontier with 500Mg fiber connection.
Connected Audio Devices
All are wired unless specified as WiFi -
2- Oppo UDP203's
1- NAD M33
1- Bluesound Node 2i
1- PSAudio Sprout connected to bespoke built PC (remote) via USB
1- MacBook Pro (2015) - remote WiFi
1- iPad - remote WiFi
2- Sono's Play1's - WiFi
Airplay/Bluetooth to a number of these devices
Number of Tracks in Library
15,341 tracks (.flac) stored on 40Tb Drobo 5N NAS
Description of Issue
The behavior is that when starting a new session in Roon using any remote the connection to the first track chosen from my library times out. Most often the track is then marked "Corrupt" and the album marked "Unavailable" (see screen captures). Shortly after being marked "unavailable" the album information returns and I can select the same track that would not play before (and now marked corrupt) and it will begin to play immediately. I then go in and re-analyze the track under edit and the "corrupt" tag disappears. As long as I continue to actively use Roon this doesn't happen again during that session. However if I close Roon for awhile, or even if I leave it open but don't actively use it, the same thing occurs when I go back. Doesn't matter what track is selected, the previous one or a new one. I don't have a handle on how long that inactivity time needs to be though.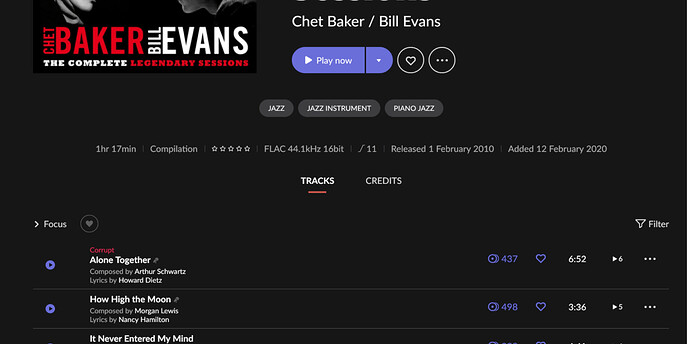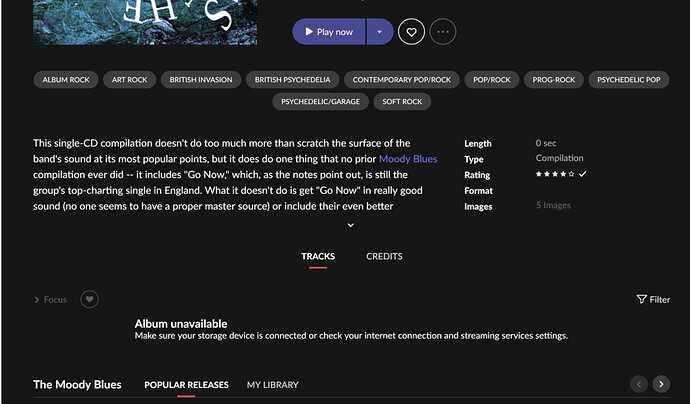 Is there a setting somewhere to manage this?