Hai, I'm rather new to the high-end audio world and currently on the free Roon trial, deciding wether to go for the lifetime or not.
I'm new to all the audio terms, and I'm a bit confused to which settings to use for my main audio setup.
My setup:
Mac Mini, running Mac OS Big Sur with Roon
USB B Cable to JDS Labs EL DAC 2
RCA to JDS Labs El Amp 2
6.3mm to Abyss Diana V2 headphones
Audio files:
95% of the music I listen to is from Qobuz, at the Studio premier plan.
Other 5% are some local FLAC files.
This my current Audio device settings in Roon: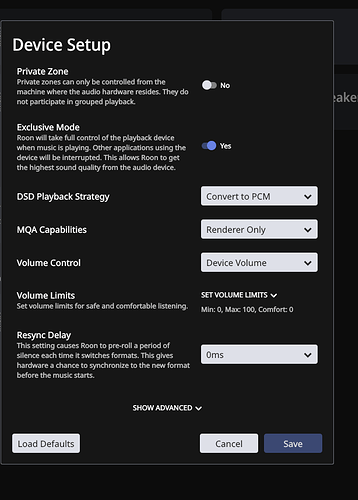 These are the default settings, now what I'm wondering about is about the DSD Playback Strategy and MQA Capabilties settings. Are these the best ones for my setup?
I'm trying to learn what these terms mean exactly through Google, but I'm a bit confused still.
Thanks in advance!