3 hours in the life of a Roon user……
So Roon Random album (a third party extension - one of many great ones) starts playing a Claude Debussy album I have after a few hours listening and reading the lyrics to "It's a shame about Ray" as some research for an upcoming gig.
I must have bought this around 2006-7 when I was trying to educate myself more in different types of music. It hasn't got played much in the intervening years but is sounding interesting tonight.
So I head over to Pink Fish and search Debussy and get a mixture of music threads and DAC threads. There are several recommendations and I simply cut and paste the artist into Roon search, go to discography and filter "dub" and bingo the albums recommended show up.
I add some of these to my queue and add a few to my library as a consequence.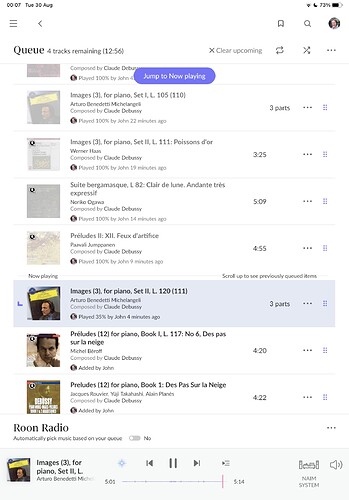 It just struck me this is absolutely amazing as when I was trying to educate myself in classical in the middle of the first decade of this century it involved adding albums (that as you can perceive I rarely listened to) to an Amazon cart after recommendations on the Naim forum.
And as if the emphasise the universality of music Random has now selected Half Man Half Biscuit
A national treasure as my avatar often said.
God knows I often complain about Roon and there are a lot if irritants but how else could I achieve what I've listened to tonight?
Well done Roon, you have enhanced my enjoyment of (my) music no end.
.sjb