In honor of the 50th anniversary of putting a man on the moon, I'd like to propose a similar "moon shot" for Roon, in the form of one album. It's called "Gateways"; here's the jacket:

The following is, or should be, an aspirant goal for Roon:
Upon adding a new album to a library, Roon shall identify the album and all of its compositions, successfully group the movements into works while avoiding spurious groupings, and link related metadata, all without user touch-ups or edits.
I propose a target date of 2025 for completion of this mission.
Why 2025? If you import this album today, the amount of work remaining to get it right seems daunting. One might be tempted to overlook these deficiencies forever, constantly pushing the fix down in the stack in favor of things like MQA, Chromecast, and ripping. Then the abiding image that Roon might carry is: "well, we tried hard."
Even though the Gateway album is "identified" (loosely interpreted), only one composition is correctly identified. Two compositions are ungrouped, and the fourth work is erroneously split. See partial pic below: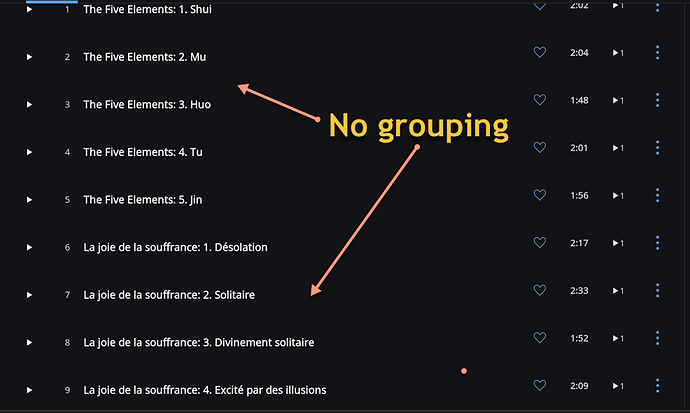 Roon first has to determine why the two larger works were not identified as "works". Perhaps it is "faulty wiring", perhaps an incomplete model of the things it had to consider. Time to roll up the sleeves. Break down the algorithms. Has there been a failure of imagination?
Then there is the work "Symphonic Dances" by Rachmaninov. No one, but no one, would ever present the movements how Roon has presented them: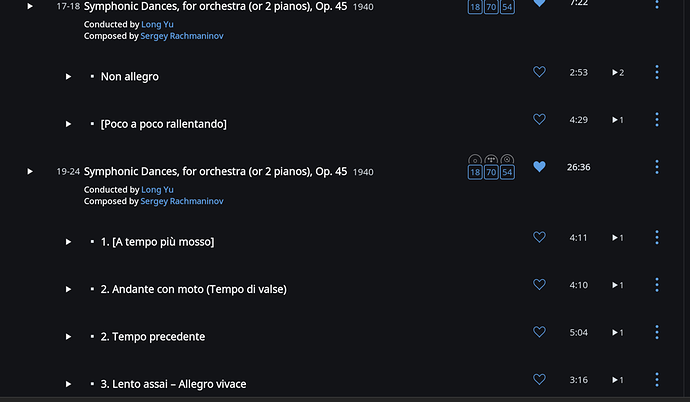 The first two movements are separated from the rest. This is akin to the Apollo 1 disaster test on the pad. Presenting this album should have been routine, but it turned out to be a fatal exercise.
So, Roon, please work this problem, not just for this one album's sake, but for the hundreds of albums here and yet to come. Why is this composition split? Is it because of the unusual numbering they use? Don't resort to the old "bad metadata" excuse, else the same disaster will happen time and again.
And why are the other works in this album not grouped, despite their sharing common work names? The human eye can easily detect the intended grouping. Perhaps there is an algorithm that could do the same.
Finally, some may grumble about no mention of "the box set problem" here, to which I reply, "Baby steps, people, Baby steps. First the moon, then Mars."