Hi,
This week I had chance to put together and test amazing Allo DAC & AMP on Raspberry Pi 3. As we have quite a lot discussion in Roon Community on DACs & Raspberry Pi solutions, I thought to share my impressions.
https://www.allo.com/sparky/bundle-kali-piano-volt.html
It is whole stack of 4 great performing products created by Allo team:
KALI reclocker that buffers 0.7s of I2S stream discarding the incoming quite innacurate Raspberry Pi clocks and using own 44/48Mhz oscillators to reclock accurate I2S signal to feed DAC. The same reclocker cleans 5V power from switching power supply and feeds DAC and Raspberry Pi with nicely filtered power.
PIANO DAC based on PCM5122 with integrated stereo headphone amplifier on TPA6133A2, and PIANO DAC 2.1 based on PCM5142 with crossover to feed stereo or mono subwoofer.
VOLT 2x max 50W amplifier running on TI TPA3118 chipset and Würth Inductors.
CAPACITANCE MULTIPLIER that reduces the 19V switching power supply output ripple/noise to almost negligible levels and feeds VOLT amplificator.
While testing, I was using GRADO Statement Series GS-1000 headphones, and comparing two Allo DACs sound quality vs. Antelope Zodiac+ and Audiophonics I-Sabre V3 DAC running of ES9023.
Antelope Zodiac+ is certainly setting threshold very high, and Audiophonics I-Sabre V3 DAC has very good reviews as one the best Raspberry Pi DACs out in the market even outperforming both HiFiBerry DAC+ Pro and Mamboberry DAC.
Following were my findings:
Allo DACs together with reclocker (127$/ 153$) are certainly much better than Audiophonics I-Sabre V3 DAC ES9023 (83$), and almost on the level of Antelope Zodiac+ (2500$).
Both Allo DACs with reclocker were substantially better than Audiophonics I-Sabre V3 DAC ES9023, which has flat soundstage, low dynamics, poor clarity, and weak bass in my opinion. I tested I-Sabre V3 DAC with Audiophonics own Linear Power Supply, that supposing should give the best performance. After listening to Allo DACs the difference was so big, that I returned I-Sabre V3 DAC back to Audiophonics. However, I just ordered the new Audiophonics I-Sabre DAC ES9018K2M, and will write review after testing it.

For me Piano 2.1 PCM 5142 DAC sounded better than Piano PCM 5122, and was almost impossible to differentiate Piano 2.1 PCM 5142 DAC form Antelope Zodiac+ with exception of high frequency handling.


Piano PCM 5122 DAC has very good sound, good dynamic range, great 3D sound image, but lacks some clarity and elegance

Piano 2.1 PCM 5142 DAC has excellent and very rich sound, excellent dynamic range, great 3D sound image, strong consistent bass, very nice clear natural and present voice.

Both Piano PCM 5122 and Piano 2.1 PCM 5142 DACs unfortunately slightly lack high frequency tones, and high tones transparency & precision (not only highs are lower in level, but subtle nuances like breath of singer, touch of instrument strings are missing)

Issue I had on both Piano DACs was "krakrck" click at the moment when DAC was accessed to start Playback or released when Playback was stopped. According to Allo team it is due to implementation of the PCM DAC IC and the way driver is accessing it.

Another issue I had - Roon doesn't recognise these DACs as 384 kHz/ 32bit capable, and is down converting 352,8kHz 24bit files to 176.4kHz. Don't know what is the issue.

Finally, I wish Allo DACs had a DSD playback. Currently DSD decoding unfortunately is missing, and I ended up with Roon down converting DSDs to PCM 352,8kHz and then to 176.6kHz.
Quality of Piano PCM 5122 DAC headphone amplifier was very positive surprise to me. I initially didn't expect much, but the performance was on the level of very high quality two stage headphone amplifier I have in Antelope Zodiac+. The only few minor limitations were due to DAC performance itself I described above. For me having this integrated headphone amplifier is a major benefit!

Quality of VOLT amplifier is also good. I could not only drive small stand speakers like Monitor Audio Radius 90 and Yamaha NS-M525, but also large power demanding 250W Avalon Ideas. With max 2x 50W it perfectly fills the room with rich dynamic and powerful sound, and for class D it has very pleasant and natural sound. My preferred level is at 1/3 of max volume.
Set-up of the system was fast and easy – 10 minutes and I got stylish open-work design on my home-office table. The build quality of all boards and acrylic case is solid. My only critics is plastic screws and standoffs, as the screws when tightened tend to jump over turns. It would be better, if Allo would supply metal black plated screws and standoffs.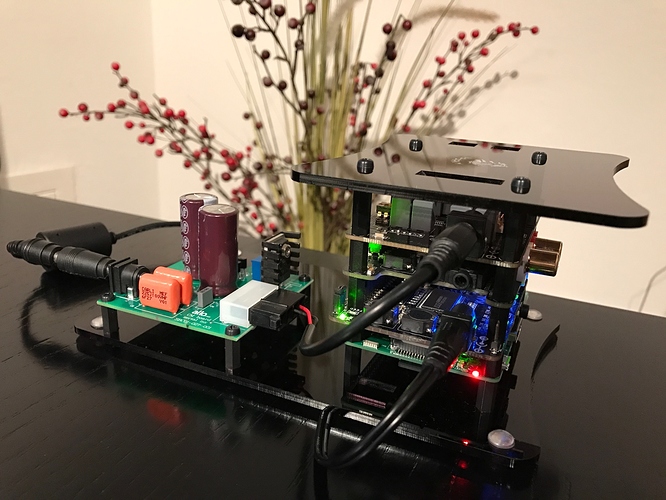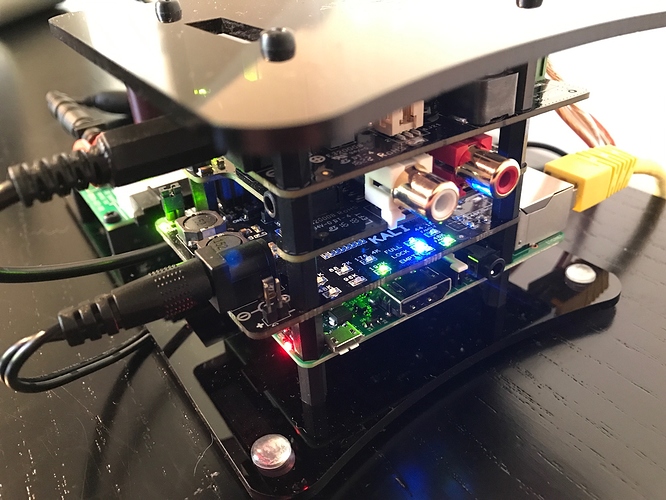 My 7 years old son was excited seeing it, and after "woow" named it computer in four levels; and my wife named it Japanese house.

As SW I was using standard DietPi and Roon bridge installation.
Allo works with both in DietPi default available HiFiBerry DAC and IQaudiO DAC drivers. However, I wouldn't recommend to use HiFiBerry DAC driver, as it doesn't allow HW volume control functionality.
I found way to install Allo Piano audio driver with the below set-up, but didn't find any incremental sound or functionality benefit of it.
To manually configure Allo Piano DAC driver, you need to do config.txt edit
sudo nano /DietPi/config.txt
First add line to the config.txt file:
dtoverlay=allo-piano-dac-pcm512x-audio
The save & exit:
Ctrl-O, Ctrl-X
Then restart and test if Allo driver has loaded:
aplay -l
Janis