Is there a plan to implement roon on the apple watch ?
Marco
Well, at least a control point for my Microsoft Band 2 would be nice…
What would you control on that "display"?
A Pause/Play toggle?
Yes, play/pause, next track and volume.
Tidal app is supporting apple watch
Sorry for my bad english
Marco
Wow. I meant this rather as a joke…
Really guys, why not use the smartphone for that?
Afaik you need an iphone with your iwatch anyways…
yep, the smartphone (hold the app) and the watch only control play/pause next Track
Out running, or on the bike, the phone is safely stowed, but I can always reach across to my left wrist…
Something like iPeng for Apple Watch is probably what OP wants.
You can use Remote Buddy with your Mac to control Roon with the behaviour (RB speak for "configuration") I made. Remote Buddy has an iOS app with a watchOS counterpart which acts as a remote control.
Great app which I recommend to any Mac user. It's a mouse, keyboard, remote and VNC client. Haven't really used the watch app much, but here's a screenshot of it controlling Roon: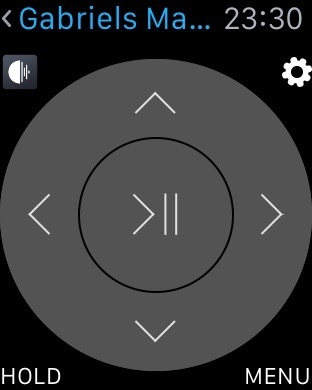 Why not on google googles ?
(joke)
I would love to see a basic skip/volume and even a mute/pause option…when a call comes in too
I used apple watch with itunes. Why not with roon? A good idea.
I'd like to see Apple Watch integration, too.
Because, when you need to talk to someone over your loud music,instead of pulling your phone out of your pocket, opening the app, and clicking pause, you can touch the app on your wrist. It won't rock your world but is an extra bit of convenience.
What I think we need is Tim Cook to explain it. Remember when he said how Apple Pay is so much better? Instead of pulling out your wallet, finding your credit card, and having to swipe it. You can just use your phone. It does not get any better than that is what Tim said. In reality is saves two seconds and only if you already have your phone in your hand. I think that is what people want from a Roon watch app. Just the bit more ease of use for a couple of key functions.
Everything we do today would appear to be silly to someone looking at our "needs and requirements" from the 1980s, yet here we are.
It has nothing to do with talking to people or avoidance therein. When I'm on travel, my iPhone is physically tethered to my Chord Hugo 2 via a short USB/CCK cord, and to control play/pause/next functionality is much easier from the Apple Watch than retrieving the Hugo 2/iPhone combo and navigating the iPhone's screen.
I would love to have Apple Watch support as well. Especially since I have used it for a long time on LMS + iPeng combo and then later on Tidal.
It actually already works if using my iPhone as endpoint, so I really don't think it should be very complicated to make it work on controlling other zones.
Another vote for Apple Watch support