Roon Core Machine
Apple MacBook Pro (15" 2017)
Catalina 10.15.7
3.1 GHz Quad-Core Intel Core i7
16GB 2133 MHz LPDDR3
Western Digital 18TB Elements Desktop External Hard Drive (Music library storage)
Networking Gear & Setup Details
Virgin Media Hub 3 set to modem mode…
ASUS ZenWiFi AX router connected to laptop via cat-6 ethernet cables.
Virgin Media M350 Fibre Broadband
Connected Audio Devices
Raspberry Pi 4b with Allo BOSS DAC connected to router via Cat-6 ethernet & to analogue amp via standard phono.
Number of Tracks in Library
313,338
Description of Issue
Along with the "analysing" issue, I also have this happen periodically: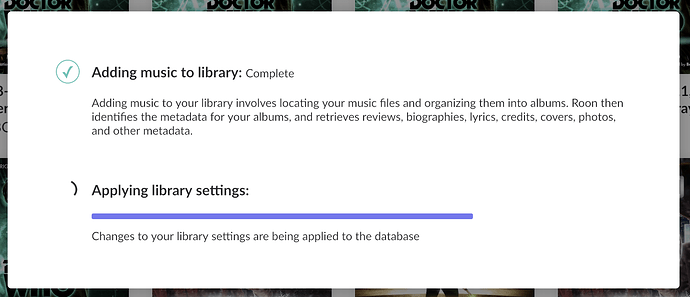 I have no idea what settings it's applying. Perhaps someone could enlighten me?
I would naturally assume that every time I changed anything in my library, it would be updated on the spot & there wouldn't suddenly be a period of several hours where it needs to "apply settings".
Does this mean that, prior to it doing this, my database (& therefore my back-up) was out of date?
Why does it take so long? It's been like this for several hours now & the progress bar appears to be stuck.
It will complete the task eventually. It's done this many times before, but I can't do anything in Roon until it's finished, which is sub-optimal.