Roon Core Machine
Rock on NUC
Number of Tracks in Library
100,000
Description of Issue
I have found a small bug in roonalbumtag, or perhaps in scan interactions with roonabumtag. I've been using roonalbumtag for over a year (in the same fashion) without seeing this behavior, so perhaps its related to software version. My Rock on NUC is rock 1.0 build 254, and my roon server is 2.0 build 1223.
This may rank as a minor bug, but it seems to be new and may have ramifications for the roon database.
I use roonalbumtag to maintain my personal album ratings. For example ROONALBUMTAG: rating = 7. I use a metadata editor (mp3tag) for this. When I first import an album, I set ROONALBUMTAG to unrated. When I rate the album, I use mp3tag to change ROONALBUMTAG from unrated to a numerical value, 1 to 10. I then use albums/edit to rescan the album so roon picks up the change to ROONALBUMTAG. I have done this without issue AFAIK over 5000 times.
Today I changed 2 albums from ROONALBUMTAG = unrated to ROONALBUMTAG = 7 for one album and 8 for the other. When I rescanned, I picked up the new value, but roon now displays both "unrated" and "rating = 7" or "rating = 8" for the value of ROONALBUMTAG. (I changed a number of other albums at the same time without this resultant behavior). I checked in mp3tag, and both albums show only "rating = 7" or "rating = 8" for ROONALBUMTAG. I cross-checked, and foobar 2000 also shows the correct value only for ROONALBUMTAG. So it appears that occasionally, at least with recent roon software, the old value was not deleted from the roon database.
A minor issue perhaps. Editorializing as a former software architect, database issues should always be taken seriously…
mp3tag: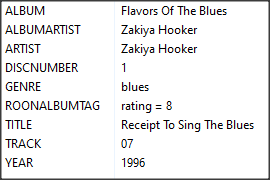 foobar 2000: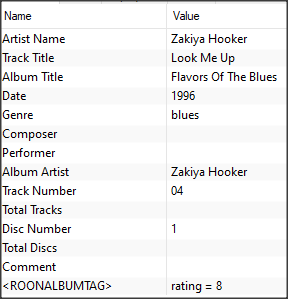 roon: