Roon Core Machine
Roon ROCK on i5 Intel NUC
Networking Gear & Setup Details
Netgear Orbi Mesh (model year ~2018) with all nodes connected via Ethernet. All Roon devices are connected via wired Ethernet (Core, Clients, Endpoints). I also have some Chromecast devices connected wirelessly.
Connected Audio Devices
Core only here, running headless with no audio output.
Number of Tracks in Library
33129 tracks
Description of Issue
I got stuck in the upgrade/downgrade mess of the v2.0 update (most of my devices updated to v2.0, then the core automatically "updated" itself to v1.8). The instructions to get back to v2.0 involve accessing the Roon OS Data Directory. I am unable to access this directory following the instructions in the help article though. I'm on Windows 10 and using Explorer, I get an error when typing in the \ROCK\ or \. I can access the ROCK status page just fine and it reports that everything is working fine. I am able to connect to the core from the Windows Legacy 1.8 client and the Android Legacy 1.8 client.
This is what I get when trying to access the data directory (Windows cannot access \ROCK, I get similar with IP access attempt):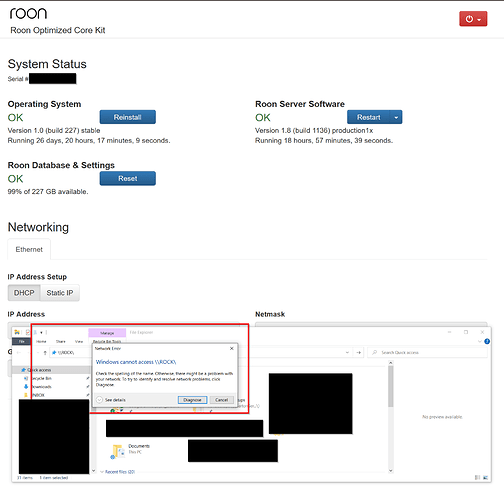 What else can I try here? I'd like to get Roon back to a "just works" state. The reason I pay for Roon is because it has always "just worked" and at the moment it's not "just working".