Core Machine (Operating system/System info/Roon build number)
Innuos Zen Mini, system info and Roon build number attached. The Zen Mini is running innuOS version 1.4.5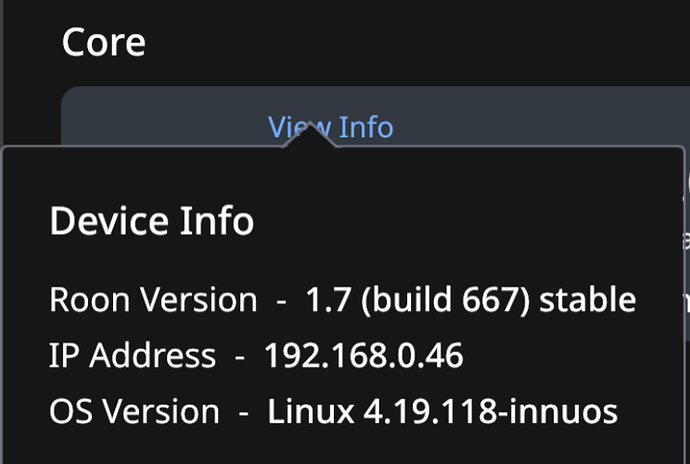 Network Details (Including networking gear model/manufacturer and if on WiFi/Ethernet)
Ethernet connection via a couple of Netgear switches to sky Q router and Media PC (where 'old' but working Roon server is.
Audio Devices (Specify what device you're using and its connection type - USB/HDMI/etc.)
Innuos Zen Mini with RCA out to Class A amplifier. Various other endpoints including Bluesound Node 2i connected to different amplifier.
Using iPhone 12 as remote.
Description Of Issue
I simply wanted to stop using my very old PC as a Roon Core and use my Innuos Zen Mini instead. This is proving extremely complicated. I have no idea how to restore the Roon database backup (backed up to both the PC and the Zen Mini) to the Zen Mini Roon Core. Settings > Backups > Find backups just prompts me to add a Network Share which doesn't work. Even though the PC can see the Zen Mini as a music store etc. The Roon Core on the pc works just fine with the Zen Mini as an endpoint and storage for all my music files. When using the Zen Mini as a core it only sees a handful of albums and must of my music library seems to be missing even though it is all stored on the Zen Mini. This is all very frustrating and user un-friendly. I love Roon when it works but this kind of stuff just makes me want to give up on it altogether.