Core Machine (Operating system/System info/Roon build number)
ROCK on NUC5i3
Network Details (Including networking gear model/manufacturer and if on WiFi/Ethernet)
Wired, Wireless for Remotes
Audio Devices (Specify what device you're using and its connection type - USB/HDMI/etc.)
SonoreUPnP Bridge to Naim NDS Network Player via Ethernet input (UPnP)
Sonore UltraRendu to USB->S/PDIF convertor into Digital input of NDS player
Chromecast Audio, and 2 Chrome Assistant devices
Description Of Issue
I cannot change the Device icon for the SonoreUPnP Bridge.
This presents a Squeezelite device as it is a supported implementation LMStoUPnP product, but is running on a Sonore UltraRendu device. I would like to be able to change the Device icon to the Sonore UltraRendu one, which you already have in the icon library.
So for the SonoreUPnP device, this is the device setup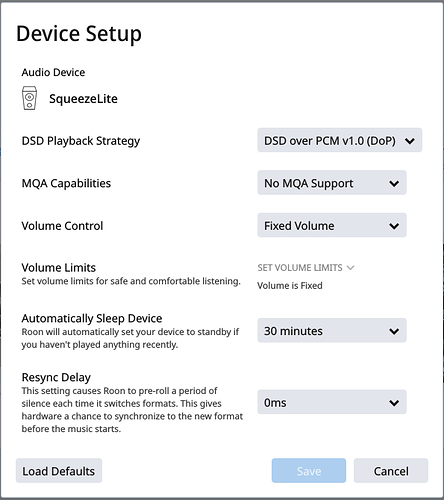 For the UltraRendu I then get this, with the ability to separate the device into the Bridge device - can I have this capability for the SonoreUPnP device setup, please.