Price for features can't be beat. Feasible to turn this into a RoonSpeaker?
I just ordered a Chromecast Audio

We'll play around, see what's possible. We'd love to have a turnkey $35 wireless output in the ecosystem.
Only problem is there is no optical out, so your limited to the quality of the chromecast DAC and output stage. But still, if quality isn´t critical - then this would definitely come in handy for some people!
The new Chromecast Audio has an optical out.
I still wouldn't use it for my highest quality zones, and we have no idea what its sample-rate/format support looks like yet.
There's HDMI out (on regular Chromecast) and (as brian says) toslink on the audio.
The audio quality from an original Chromecast from my TV is just extraordinary. Properly mixed music videos can sound amazing. We will have to see what the new system will bring.
Exactly my thought. I mean, it gives you up to 24/96 (via Tosllink at least; unclear the tech details of the internal DAC) over 802.11AC WiFi for $35!!
Ideally these endpoints could just show up in Roon, but am unclear ATM how easy that'd be to get running for you. Crossing fingers.
This has an inbuilt DAC but no power supply ?
There's an external PSU.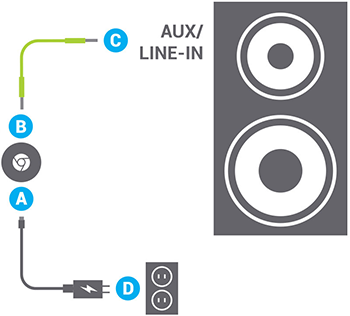 Just came here to ask about the Chromecast, looks like there is a thread already

This has an inbuilt DAC but no power supply ?
Hah, wouldn't that be neat.
Right! I was certain they just mentioned a 3.5mm output. So assumed it was just analogue. Good to hear!
Google just announced the Chromecast Audio dongle. Will it work with Roon?
My speculation: the pessimism is premature. This is, perhaps, default behavior with current app support, but developers have access to other functionality. I mean, their specs explicitly mention "HD Audio" with 24/96 support, and their APIs include information on bit and sample rates (with 441000 being default).
Assuming the device itself meets Google's specs:
HD Audio: 24-bit/96KHZ
It will be interesting to find out whether what he is seeing is an issue with the hardware or with something upstream.
I received mine. It's tiny, and a convenient way to get audio over WiFi to different places in the home.
The Chromecast UI is also nice, and consistent in its basic (UX) logic to how Roon works.
So yeah, would love to be able to have this as a Roon endpoint.
Currently using BubbleUpNp to stream Tidal through the Chromecast Audio to my Audio-GD DAC. Setup easy and it works like a charm. Only thing missing is Roon, so I switch between the optical and USB inputs depending on whether I'm doing serious listening or fiddling around the house.
Ifixit have torn it down and found an AKM 192khz 24 bit DAC:
Very interesting. I hope they expose access to its full capabilities in the software environment.