Core Machine (Operating system/System info/Roon build number)
Machine = Apple Mac mini (mid 2011)
OS = High Sierra (10.13.6)
CPU = 2.3 GHz Intel Core i5 (dual core hyper threaded for a total of 4 logical processors)
RAM = 16GB
OS drive = 100GB Viking SSD
Music Library drive = 500GB Samsung EVO SSD
Roon Core Version = 1.7 (Build 537)
Network Details (Including networking gear model/manufacturer and if on WiFi/Ethernet)
Roon core on Mac mini has a WIRED network connection via Cat6 RJ45 Ethernet to my UniFi Dream Machine Pro router.
My router is wired (via RJ45 Ethernet cable) to my Arris DOCSIS 3.0 cable modem.
My ISP is TDS with 600mbps down and 20mbps up.
Audio Devices (Specify what device you're using and its connection type - USB/HDMI/etc.)
TIADL > Roon core > MacOS on Mac mini 2011 > USB > Schiit Audio Yggdrasil DAC
Description Of Issue
I recently change my TIDAL password at tidal.com and of course Room now can't login. So I went to…
Settings > Services > TIDAL "edit"
…& instead of allowing me to edit the login credentials the only option I was given was "logout" "done" or "retry". I think "logout" is a bit heavy handed just to have to change the login credentials, but whatever. So I logged out just so I could login again with my updated password.
HOWEVER, when I clicked "login" I get an error…
"There was an error authorizing with TIDAL: MissingMethod. Please try again."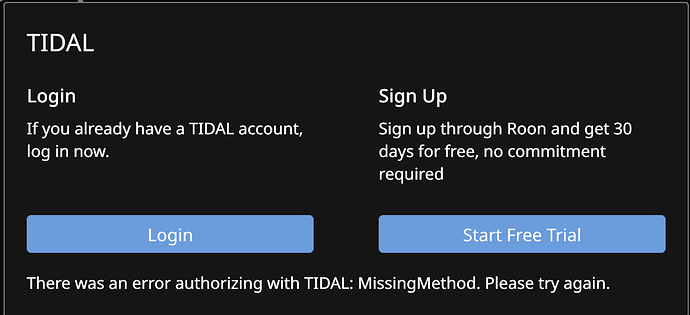 Yet no matter how many times I try I get the same error.
I even closed the Roon app & re-launched it & I still always get the same error.
So for now I'm relegated to using the TIDAL app directly which means I have to manage what's playing via a remote VNC session to my Mac mini until this gets fixed.