Build 806 claims it has evolved searching functionality, but I don't think it works well…
For example, I have Bad Religion artist in my library and I've assigned heart icon to them.
I have theirs album True North also in my library, also granted a heart icon.
If I type True North in the search field to try to quickly access the album, I get: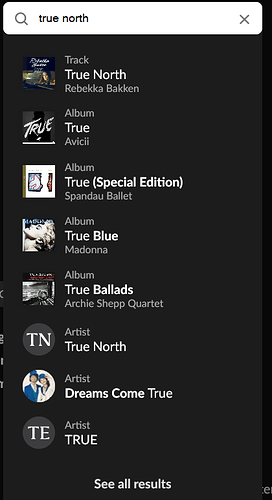 No True North at all. It's there if I click on 'See all results', but that kind of kills the point of doing a quick search.
Note that I have to be honest and I don't know what were the results in previous Roon build, but I'm sure I would notice this - I was generally pleased with searching artists that I have in my library, although, there were problems with new albums which often didn't appear in the search, but I was able to find them through the artist discography.