same problem, using a Macbook pro
Hello @DANIELA_tomarchio, and thanks for your report! I'd be happy to help if you could provide some details on your setup, and if you could let me know if you're having issues exporting just one item, any item, or to any location or just one. Thanks!
unfortunately the export function does not work properly and is unusable
I periodically use it to export a playlist I created, via my Macbook pro, on other devices such as the iphone
until a few months ago it worked perfectly, also exporting up to a hundred tracks
for some time however, after giving the command, it almost immediately freezes and I am forced to close Roon and restart it.
this function is completely unusable
My sistem is:
Roon core on Sonictranporter I5
Library on Nas Sinology
Using ipad , iphone or macbook pro for navigation
I send an example done now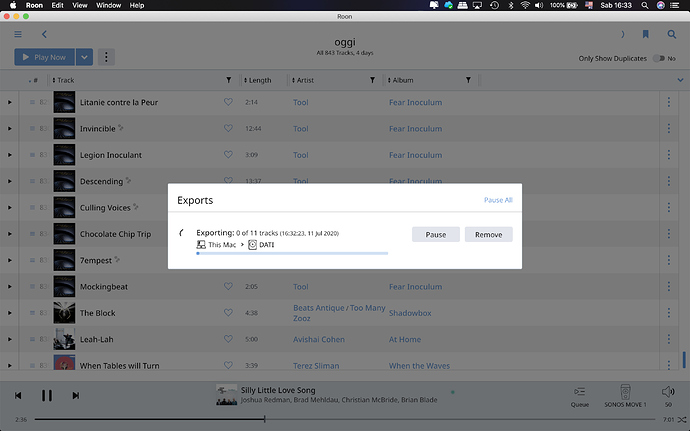 Hello,
I have exactly the same problem. The application crashes systematically as soon as the playlist export is launched (macOS 10.15.5, Roon Core on Synology SSD based, Roon latest stable version 1.7 build 571). And reading the posts it's been a while since this problem appeared (May 2020?) and still no solution?
This is very annoying.
Exporting a single album works. But it crashes as soon as it's a playlist made up of albums.
Hello, you are right, the problem is with playlists only.I had not yet tried to export a single album. now I see that it works
Actually, it crashes for me anytime I try to export content that spans multiple albums. No matter whether the export is initiated from within playlists, albums, or tracks. Even if trying to export as few as two tracks, the moment multiple albums are involved it won't work. Quite unfortunate, I only discovered the problem this morning as I was trying to grab my music from Roon to have on the laptop for offline listening on family vacation. I fear that what should have been 10 or 12 rather thoughtless mouse clicks to insure I had music for everyone on vacation has now turned into half a day's work.
Hello @DANIELA_tomarchio, could you please let me know what version of Roon you're running, as well as elaborate on your network setup? Lastly, could you please try to export a playlist one more time from your MacBook Pro and reply here with the info above and a timestamp of when you attempted the export? Thanks!
Thanks to the developers who, 6 months later, still haven't fixed this bug …
Yes…and it still occurs with the new release.
This is a perfect example of why Roon needs to have maintenance releases separate from new feature releases.
I have the same problem when I try to export from a MacMini. Exporting a Roon Bookmark selection to external hard disk will not work, playlist neither. Roon freezes, app needs to be forcefully stopped and restarted. No export has taken place. Some help would be useful.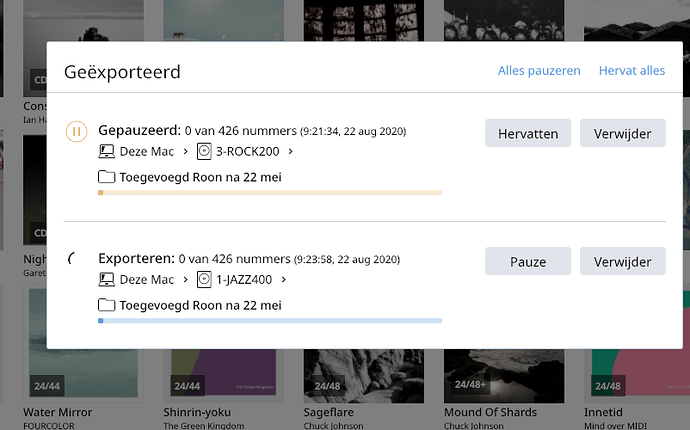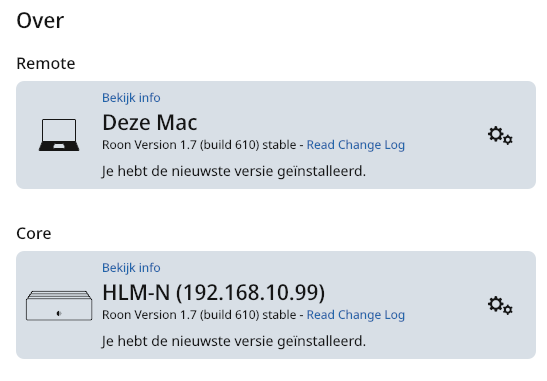 This is incredibly frustrating and Roon's failure to deal with it irresponsible.
Sorry for the ongoing troubles here. I've confirmed that this is still with our team and we've scheduled a meeting to get an update on the current status. I can't make any specific promises as to timelines, but I can assure you that this is a priority for us and we will give you an update on the current status as soon as we can.
I have made my decision :
I will leave Roon when I renew my subscription. And buy Audirvana …
Roon is unable to quickly fix bugs in its software … and treats its users as cash cows…
That's certainly your prerogative. But, I own Audiorvana and never use it. Roon, even with its bugs, is way better than Audirvana for my needs.
This topic was automatically closed 365 days after the last reply. New replies are no longer allowed.