@Support. After yesterday's update to Roonserver 1.3 (build 234) 64Bit the social media functions have stopped working.
Linux is 16.10 Ubuntu Server (amd64)
16GB RAM
MSI Cube N Booting on 128GB MSATA card
Music stored on (900 or so LPs – all FLAC) duped oover 2 x 1TB USB Drives - No Tidal.
Client/Remotes are Android 4.4.4 HP 17" Slate and Android 5.0 Moto X Style Phone – both on Roon 1.3 (Build 233 - 32Bit)
I see no way to re-request authorisations as the Authorizations View button under extensions reveals nothing but a "Done" close button and the "Get a new PIN for Twitter" underlined section doesn't work so I cannot reauthorise it if I wanted to. I cannot even download the link to the Imigur…
Links to Dropbox work, however.
Get Shared Link to Imigur gives this: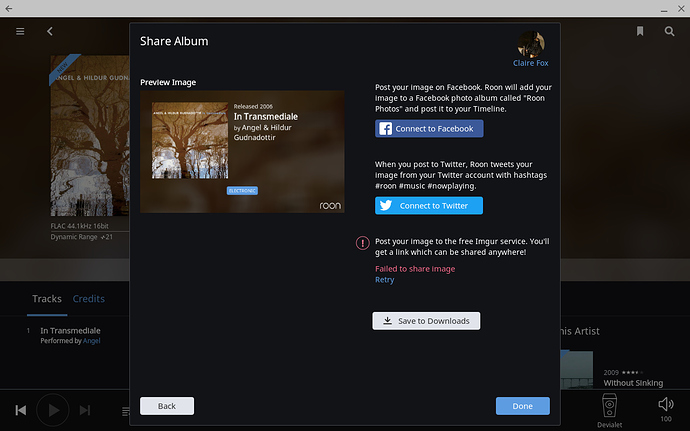 Twitter "I Need a PIN" link does not work.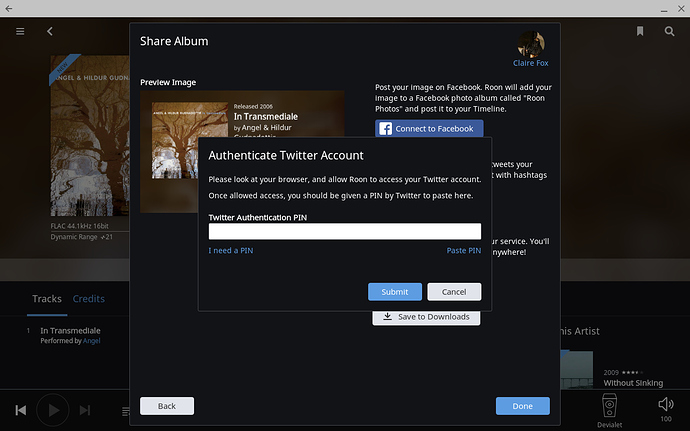 Nothing I can do with Facebook. Just Try again. Repeated attempts all end here.
Tried Removing Roon as Authorised on Facebook (and Twitter) and does not change this box.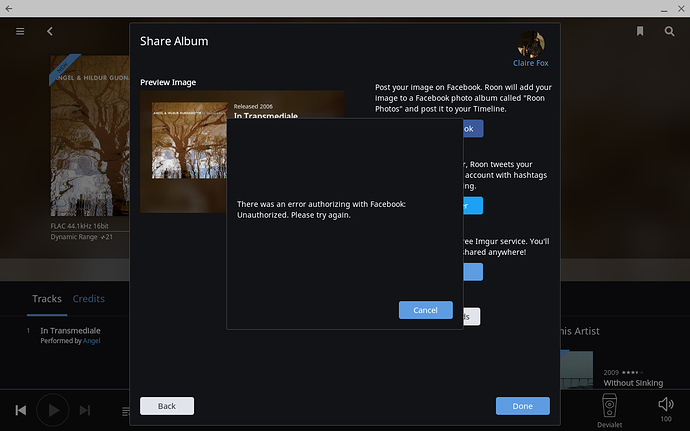 .
Sorry if this is a n00b error or discussed elsewhere. I like spamming my feed with music listenings. Roon has been flawless but I always gulp a bit when I see the updater popup these days.
"Save to Downloads" works…