Core Machine (Operating system/System info/Roon build number)
Roon Core Running on a DS718+ Synology in a SSD
1.7 on 610 Build
Network Details (Including networking gear model/manufacturer and if on WiFi/Ethernet)
Router TP Link Archer C8
Audio Devices (Specify what device you're using and its connection type - USB/HDMI/etc.)
Fiio M11
Description Of Issue
Roon upsamples/downsample every song not matter if it's local or streaming, MQA or not.
It may vary the sample if I play on Tidal, or just turn on.
If I play a 44.1 song and return to roon(play a 44.1 song), the upsamples doest not happen anymore.
If I play a 96 song a downsamples happen to 44.1.
If I just turn on M11 then upsamples goes to 24/192.
So Tidal can tell with sample rate to DAC and stays like that, if I play a song that has the same rate on Roon, that does happen again.
The 44.1 and sample rate it's just an example, could be 48, 96, 192. It has the same behavior.
I think it's Roon because on Tidal it plays bit perfect.
The M11 has a option to display the playing sample rate.
Before turned on.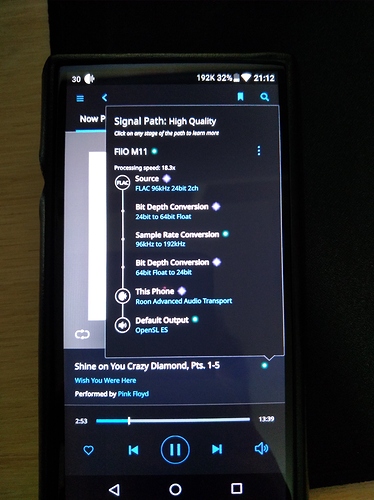 !
Play from Tidal
P_20200831_211651_vHDR_Auto|374x500
!
Exit from Tidal and came back to Roon
P_20200831_211819_vHDR_Auto|374x500