This is the last of my haul of Intel i5 NUCs - which I bought as a job lot thinking they'd be useful to people here (as ROCK doesn't run on the latest NUCs).
This is a 7th generation dual core i5 - so it's about mid way in performance between an i3 Nucleus and the quad core i7 in the Nucleus Plus.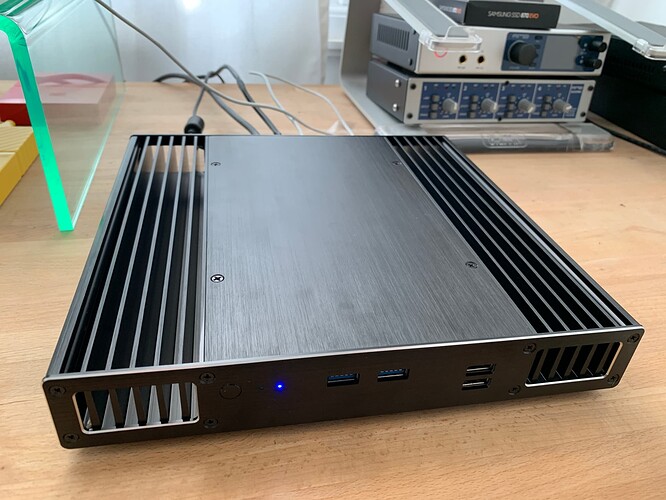 It's in a new Akasa fanless case. The case is lower profile than the more common 'Turing' case so I expect it might fit better in come people's Hi Fi racks. It certainly looks great! Cases for 7th generation NUCS are getting very hard to find - so it took me a while to find this. You see the difference in the photo below (next to an 8i5 in a 'Turing' case).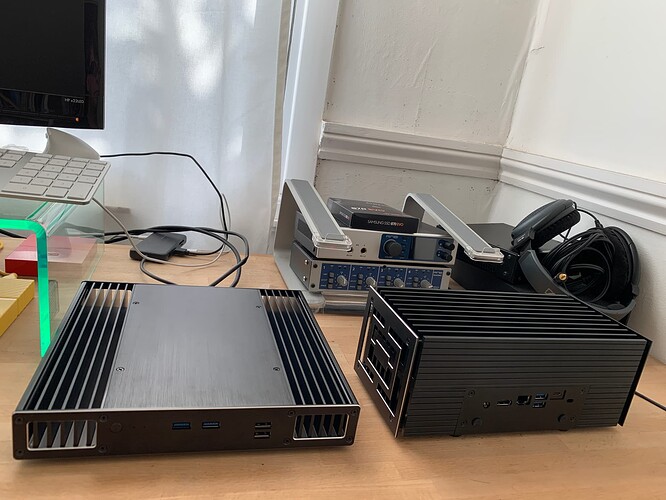 It came with a brand new power supply from Intel's UK distributer, and a brand new Samsung 980 250Gb SSB. It has 16G of memory on two SIMMs which is best for performance - and way more than you need for ROCK
There is space in the case for an SSD to store media and I'm happy to install a drive if you'd like one - if you cover the cost.
I think this is a good very good NUC to run Rock unless you have a very large library - or want to do a lot of upsampling
I will sell for £450 plus postage (around £20 - the Akasa case is heavy) and the cost of an extra SSD if you want one. I'm not open to offers for at the moment.
I will ship with a fresh install of Rock, so this will be plug and play.
I've now helped a few Roon users get up and running with Rock - so happy to provide some support getting started if you need it.
PS If you're looking for a higher spec machine - I still have a couple of fanless quad core 8i5s for sale - these are more powerful than a Nucleus plus.
https://community.roonlabs.com/t/fs-intel-nuc-8i5s-in-fanless-akasa-cases-with-rock-installed/208299 32