Difference is 1962 titles less in Roon.
Hello @Fred_Schuchhardt,
Glad to hear that the import has completed successfully now! As for the difference in titles, is it possible that you have duplicates of the same files in your library? I would also check the Roon Skipped Files setting (https://kb.roonlabs.com/Skipped_Files) to see if there are any files that are listed as corrupt, I did notice quite a few other files that were unable to be imported in the diagnostics for your machine and that is possibly the reason why there's a difference of 1,962 tracks.
Thanks,
Noris
Hello @Fred_Schuchhardt,
The Various Artists would show up due to the way our metadata services identified those albums. You mention that you have forced Roon to use your data, have you made this change in the Album Editor -> Metadata Preferences? You can access the Album Editor like this: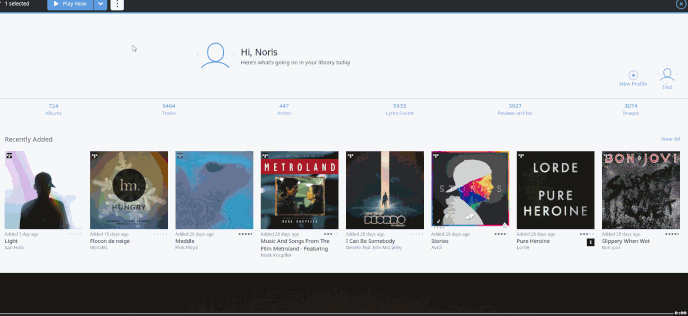 You can also read more about how editing in Roon works here: https://kb.roonlabs.com/Editing
As for your second question, what do you mean by "best output"? There are a few modifications you can do to have your music sound better such as using our DSP Engine (https://kb.roonlabs.com/DSP_Engine) to modify the bass, treble and mid-range sounds. The most important thing in my opinion is the quality of the music source.
I notice that you are using a lot of MP3s in your library which may not provide the best quality, we recommend using a TIDAL HiFi subscription (http://tidal.com/us/try-now) for FLAC and MQA tracks which provide better quality output than most MP3s. You can perform several other tweaks to your system by taking a look at the options listed on our Audio Setup Guide (https://kb.roonlabs.com/Audio_Setup_Basics).
I hope this answers your questions but if you still have more, just let me know.
Thanks,
Noris
Hi Noris, I don't see the drop down menu as shown above?

Hello @Fred_Schuchhardt,
You would need to right-click select the desired album prior to the drop down menu becoming visible. I believe that it is control + click on Mac OSX systems.
Thanks,
Noris
Ok, thanks

I have set to take the album interpret from the file and I did a rescan but nothing has been changed. I checked again the settings and the changes have been lost. I did it again and pressed for sure the save button. Same result.
Hello @Fred_Schuchhardt,
Can you please provide a screenshot of the setting for the artwork you set in the Album Editor page and what you're seeing after clicking save? I'm not sure why that would be happening.
Thanks,
Noris
First Picture from the Album where I want to take the Album artist from the file to change the current tag Various Artists/V.A. zbti the Original tag Various Artists: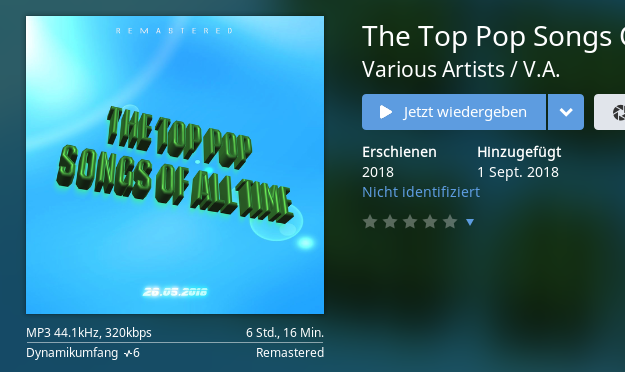 Second!shows the change in the Album-Editor: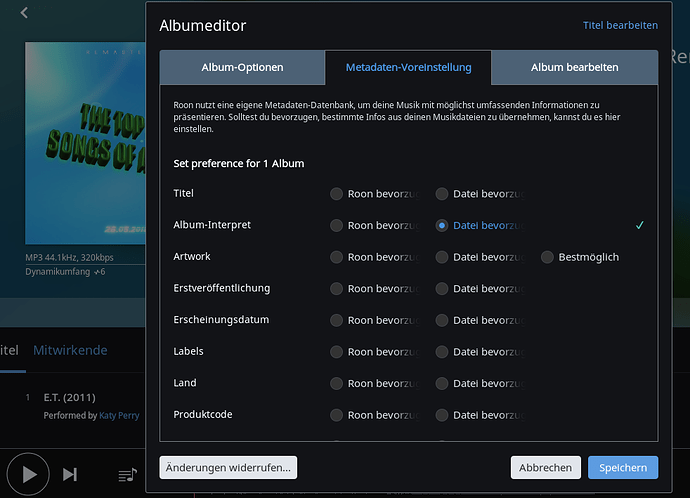 Next picture shows again the status in the Album editor after the last save: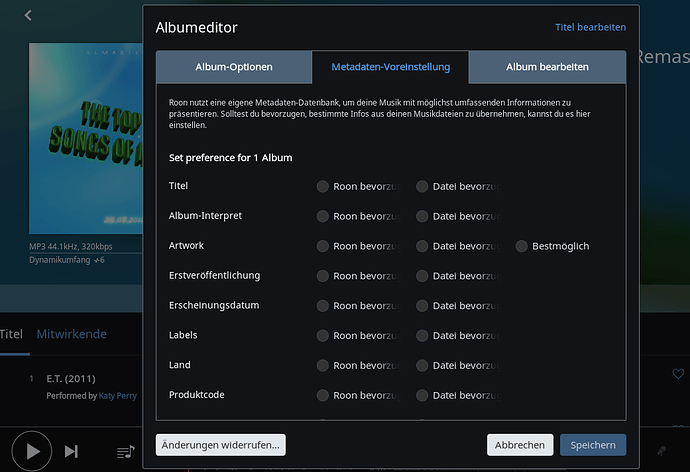 I hope it helps

Is it possible to select only Albums where no cover is available according to Roon?
What is meant with TAG in Roon?
Many thanks.
Best regards
Fred
Hello @Fred_Schuchhardt,
Thanks for providing those screenshots. Hmm, I am wondering what the file tags list as the Artist for that album. Can you please post a screenshot of your file tags? This is the information saved on the file itself and can be accessed in the following method from within Roon: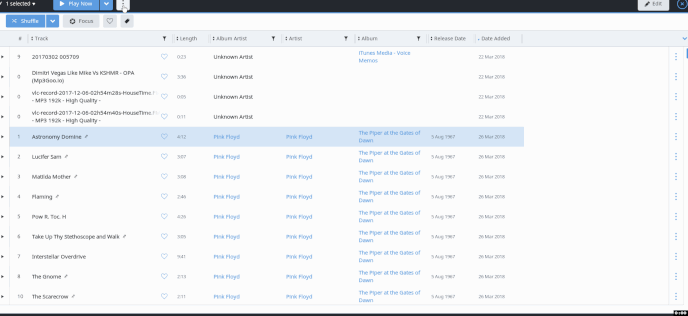 Thanks,
Noris
Enclosed the Hardcopy: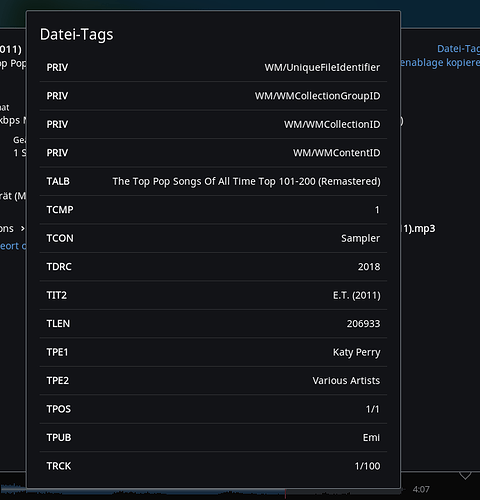 BTW: If I switch off my screen while the computer/Roon is still running I have to restart Roon because I see just the window of Roon as follows: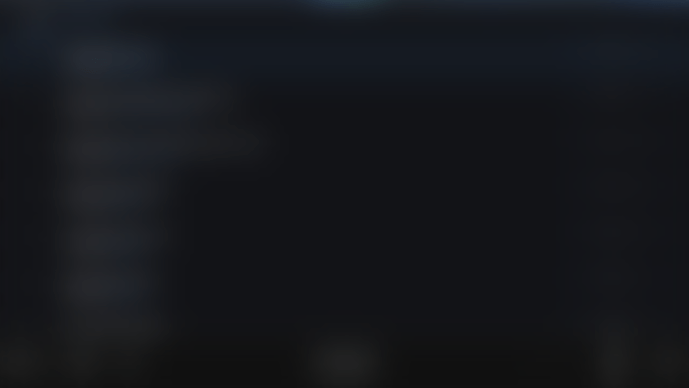 Even I minimize or hide all windows Roon is not recovering the window.
Many thanks.
Fred
Hello @Fred_Schuchhardt,
I have created a GIF of how you can change the Album Artist from within Roon: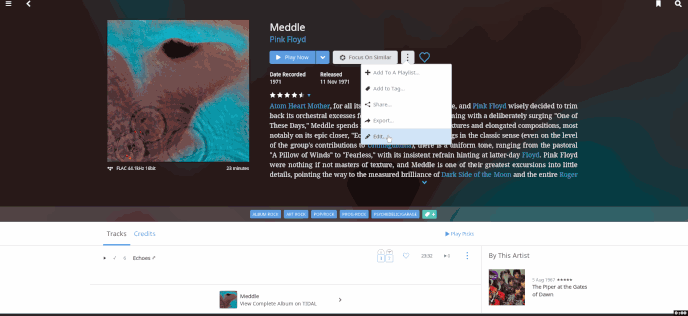 As for "ghosted out screen" you see after turning off the monitor, it is most likely due to your Graphics card and the OpenGL implementation of it. Some users have reported seeing improvements after updating their graphics card drivers. You can read more regarding this issue in the following threads:


I hope my explanations help but if you have any more questions just let me know.
Thanks,
Noris