About half of my music collection is classical. In my view, the way information about classical albums and performers is presented could be improved significantly. Take this album as an example: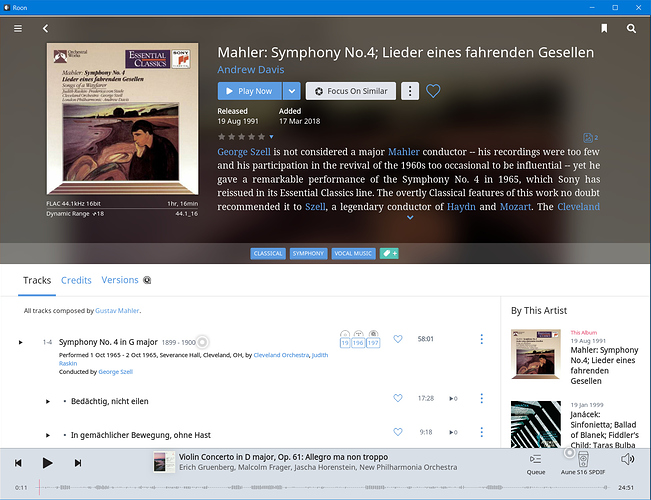 The only performer listed for the album in the main panel is Andrew Davis. Interestingly the first person mentioned in the review is George Szell, the conductor of Mahler's fourth symphony, the main feature on the CD.
The way information is presented on the album screen differs with each album. Sometimes its the conductor only, sometimes it is the orchestra, sometimes the composer, then there are combinations in all possible variations.
To me it would seem to be desireable that the presentation is consistent, for example:
soloist(s)
orchestra (s)
conductor(s)
composer(s)
The same haphazard way of presenting information can be seen further down in the list of compositions. Performer seems to always contain the orchestra, sometimes the soloist, sometimes not.
Here also it would seem desirable to list contributors in a consistent way.
The point that really gets me is that in the credits (per album, but also per composition or per track) the information is all there. It simply needs to be presented in consistent and easy to read way.
Would it be possible to make these changes to the UI for classical music?