Now that my Phantom is Roon Ready I ordered the new (Gen2) Devialet remote. It's great. Controls volume with visual feedback and the pause/play function works through Roon. But I found another feature I love, and hope Roon won't be tempted to screw it up.
Normally when you are playing Roon Radio, if you hit the next track button on the client side, you get a popup that asks why you're doing it. Never mind that answering the question has no positive benefit to the user, but you can't defeat that stupid popup box. It will keep popping up whether you ignore it or not.
When you hit the next button on the Devialet remote, it advances to the next track without triggering the popup box! I don't know how they got that past Roon Ready testing, but I hope it's here to stay.
Thanks for this info … I've got the older remote and was curious of the benefit of upgrading.
Kev.
Well, just be aware that you can't have both of them connected to the Phantom at the same time. One will 'win' and the other won't stayed paired. I took the batteries out of my original Devialet remote and no problems any more.
What is also nice about this remote is the volume level is displayed on the top of the remote. It sounds sort of trivial, but I like that feedback and makes it easier to move the volume up to a level I'm familiar with.
When choosing Roon ready speakers for my apartment I went with Bluesound Pulse 2i's. The sound quality of Bluesound speakers are a step up from Sonos but a step down from Devialet. Before I purchased my Bluesound speakers I went to the Sonos and Devilalet showrooms here in NYC. They are practically across the street from each other. In terms of sound quality Devialet swept the floor with the Sonos but, at the time, there was no way to use two Phantoms as a stereo pair. Times have changed. I now have 4 Pulse 2i's in my apartment. The sound quality is excellent and, just as importantly, both the Bluesound and Roon software work well.
Every time I go to the Devialet showroom I ask to see how their software works. I know how their speakers sound but I want to know how the Devialet software works with Roon in particular. Devialet does not have Roon set up in their flagship store, which I find strange to say the least. I don't want to mess with changing out my Bluesound speakers for Devialet's knowing that Devialet software is not as well engineered as Bluesound's. There is no way of me knowing. It would be great if Devialet owners here can post some screen shots of both Devialet and Roon software from their devices. What works? What doesn't work? What needs improvement?
I have a nagging issue with Bluesound that has never been solved. It's impossible, when watching TV or movies, to use two Bluesound speakers flanking my TV. I have resigned to listening to one speaker "only" when watching TV. All TV's have one "optical output." I have one Pulse 2i connected via cable from the speakers optical input to the TV's optical output. When I pair the other speaker wirelessly with the first speaker in the Bluesound app I get drop outs and static when watching TV from the second speaker. My WiFi signal is strong. I've spent hundreds of hours trying to solve this problem. Optical splitters don't work. WiFi extenders don't work either. Every time I've contact Bluesound they do not provide a solution. They have not fixed the basic issue of watching TV and movies through more than one speaker at a time. I'm really disappointed with this aspect of Bluesound. Calling Bluesound and leaving messages and emails takes hours out of my day. There is no solution.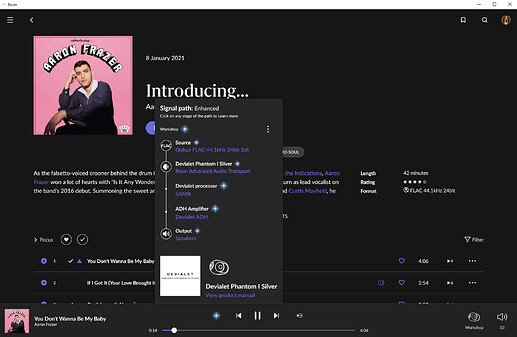 The beauty of Roon Ready is that once it is fully integrated with the device, you don't need the Devialet app anymore. You need their app to get things set up, configured, and to update firmware. But once that is done I never use it. Ever.
I am not a fan of Devialet software. It's amateurish and usually buggy. So I never use it.
We also have a Bluesound Pulse, which is also Roon Ready, and I never use the Bluesound software for anything but firmware updates.
Thank you for your input. It's nice to know someone who has both Devialet and Bluesound products. When I listen to music only I use Roon software exclusively also. I must use Bluesound software too because I use my speakers to watch TV and movies also. When watching TV I have to decouple my speakers in Roon and then switch to TV mode in my Bluesound software. Because I get dropouts from the second wireless speaker I can only listen to one speaker connected to my TV via the optical input/output. It's a pain to have to jump between both Bluesound and Roon software depending on whether I want to watch TV or listen to music. I'm wondering if I would have to do this also in the Devialet software? Have you tried steaming a movie in 4K connected to two Devialet speakers? Have there been problems? If using Devialet speakers only for music I can see why you use Roon only. I don't know how buggy the Devilat software is when trying to use their software for music, TV, and movies?
I'm sorry I just can't comment on what you want to do. There are other users on this forum like @ragwo who know Devialet really well. Perhaps they can comment.
The Devialet Phantom is Airplay compatible. Is there a way you could just stream the audio to the Phantom that way? What are you using to feed A/V? What is the chain?
I'm thinking these posts should get moved to their own thread. It will make things more coherent.
Let me see if I can do that, otherwise I can ask a Moderator.
Would you like a separate thread for this information?
Yes, that would be great. Thank you.
I'm using two Phantom Gold and three Phantom Silver in a 5.0 surround setup. For music I use RAAT and the Golds, for watching TV a surround preamp is connected to three ADCs and the speakers are connected via toslink to the ADCs. All speakers are wired. I have no problems with dropouts, speakers being out of synch etc. The optical auto switch is toggled on all speakers and when I turn on the TV the optical inputs are automatically chosen. If I want to listen to music again, I push play in Roon and the music is back. Only hassle is to adjust volume for all three zones before watching TV. While watching the volume is controlled by the preamp. I've chosen this path instead of optical direct mode on all speakers to be able to use RAAT.
Regarding streaming 4k movies, there's no problem at all.
I've done this via optical from my TV to one of my Phantom Golds (in a stereo pair) and it worked perfectly (although I did have to adjust the audio timing on the television a little bit to sync everything). At the time, I also ran a separate toslink cable to the other Phantom to stream Roon from a Pi, but with the recent update to make them Roon Ready, I removed this.
So are you saying that your first Phantom is connected to your TV via toslink and your second Phantom is running wirelessly? All you did is pair the two speakers in Roon and you can watch TV and stream movies with no issues whatsoever? Roon is for music so how do you use Roon for your TV too?
What am I doing wrong?
No they were paired via the Devialet app when I initially set them up, but apart from that you are correct. The TV provides the signal to one Phantom, which sends the signal to the second one.
This sounds confusing to me. I know this isn't Devialet specific but I have one Pulse 2i connected to my TV via toslink. The second Pulse 2i is wireless. How can I use the second, wireless Pulse 2i to watch TV and stream movies without dropouts nor static? How do I get my second Pulse 2i to work seamlessly?
At first glance this doesn't seem to be about the Devialet but I would hate to upgrade to Devialet and fall into the same problem that I have with my Bluesound speakers.
Interesting. When I pair my two Pulse 2i's through the Bluesound app, even though a signal is sent to the second wireless speaker, the signal isn't clear. I always have to decouple the speakers and watch TV through the speaker connected to the TV via toslink only.
I had expected there to be a lot of issues with them when I first set them up, but everything just worked. Even when I was feeding the two speakers with different optical signals, it all performed seamlessly for me.
Dang, that's great. I would be willing to try Devialet speakers only if they came to my apartment and set them up to see if they worked for music, TV, and 4K movies. If they indeed worked seamlessly I would buy them. If not, back they go. I've had so much headache with Bluesound I would hate to repeat the same issues with another company. The devil you know is better than the devil you don't know.
I think they have a 14 day "no questions asked" return policy. That was offered if you ordered directly from them when I bought mine a few months ago, so I told my local dealer he had to offer me that if he wanted me to buy from him.
I really like them. I am thinking about getting a second pair of the smaller Reactors/Phantom IIs for my bedroom.
Most likely because the popup can't be displayed on the remote. Roon would have to run the popup somewhere else. Imagine you have to move to a different room to ack the popup and start playback again… That would be totally illogical! The new remote looks very nice by the way