Core Machine (Operating system/System info/Roon build number)
Intel Nuc8i3 running Rock
Network Details (Including networking gear model/manufacturer and if on WiFi/Ethernet)
Ethernet
Audio Devices (Specify what device you're using and its connection type - USB/HDMI/etc.)
HDMI out of Intel nuc in to Denon avr x1600h receiver.
Description Of Issue
Intel nuc is showing 5 different hdmi outs that can be enabled within roon. When I am trying to play audio out of the nuc it seems to be random which 1 of the 5 hdmi outputs actually plays music (only 1 physical hdmi output coming from nuc).
As a workaround I play music on all of the hdmi outputs and wait to see which one is actually passing audio to the denon and then stop playback on the 4 that are silent. But sometimes when I change track or album playback no longer works on the current hdmi output and I need to start the whole process of elimination again.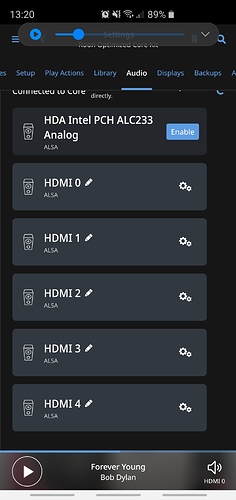 Please let me know if this does not make sense and I can try and explain again. I confuse myself at times.