Hi ! It seems that last update didn't fix it.
It wasn't meant to , that was an emergency fix for Tidal only.
Was there ever a solution to this? I get an error message "failed to share image" whenever I click on "get shareable link."
Share definitely not working for me recently
Yes they have a fix and it will be fixed in next release they have said, i guess it was not deemed important enough to go in to the last one to fix Tidal issues.
My server and all end points update automatically, so everything is up to snuff. I have found that over the past week or so that I can no longer get Sharable Images for posting to things like "What you're listening to". I get the following error: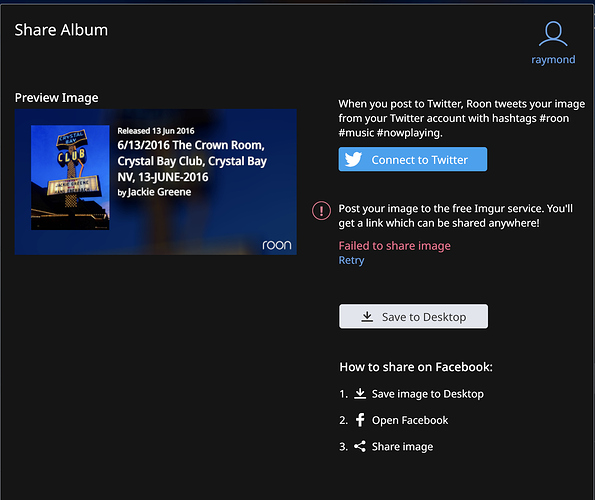 This problem has been known for several weeks. As a workaround you can use the button 'Save to Desktop' and drag the image file into the edit field of the forum post your are preparing… it will be uploaded and so you can still share your images.
Its finally working again with Version 571. Thank you, Roon

Hi everyone,
Hello,
I wanted to reach out and let you know that we released Roon 1.7 Build 571, which includes some improvements that we believe should help here. Please give the update a try and let us know if it helps!
You can read the full release notes here:
Thanks,
Roon Support
Thanks! It's working again.
Yep, working for me also.
This topic was automatically closed 36 hours after the last reply. New replies are no longer allowed.