I took another look over your ticket and one other aspect which would be helpful for the team would be the logs from your iPad. I have just enabled diagnostics mode and you iPad should upload a set of logs next time it's active, but the Roon app would need to be opened manually. Can you please open the app, let it sit a few minutes, let me know here and then I can check for the diagnostics report? Thanks!
Ok I just restarted the iPad client and the problem was reproduced. Could you please take a look?
Thanks!
Meanwhile, I think I discovered a workaround – at least it seems to work for me. The steps:
Stop Roon client
Turn off rotation lock
Hold the tablet in landscape mode
Start Roon client
Turn on rotation lock
Roon will always start in landscape mode if you are holding the iPad in landscape also assuming you do not have rotation lock engaged in portrait mode.
What sometimes happens though is if you inadvertently start Roon in portrait mode, regardless of whether you use rotation lock or not, is that it starts with the borders cropped and then wont flip properly when you go to landscape mode.
So, what you are seeing with the problem is exactly the same as reported on the thread I linked to a few posts up.
Roon iPad client always used to start for me in landscape mode before build 571. Even if I had rotation lock on and held the tablet in portrait mode, it would start in landscape mode.
Yes it usually does for me but if you look at that thread it has been an issue for some pre-571; me included…
Oh I completely agree, I read that thread. It is the same issue. I'm just saying, I've never even seen the client in portrait mode – I simply thought it was hardcoded to landscape. Conversely, the iPhone client is (for me, at least) always in portrait mode.
Once the issue with cropped borders starts (which renders the client unusable), I was not even aware how to get out of that situation. The only way would be to leave the tablet for a couple of hours and then, sometimes, the problem would misteriously disappear. The workaround at least takes care of that. I've confirmed at least 3 times now that (for me) the sequence I mentioned above always starts the client properly in landscape mode.
Agree - I have never had an issue when starting in landscape mode; it has always opened correctly. Similarly 90% of the time when I accidentally open in portrait mode it flips automatically to landscape but just occasionally it does this funny thing with cropping.
I too have not found any way out other than to completely close the app and restart it remembering to be in landscape to begin with…
I can confirm that iPad logs have been received and passed to QA for their investigation into this issue.
I also noted your steps to get out of this state on the ticket, let's hope it helps!
Hi @noris,
Any feedback from the QA?
Thanks,
– Stanislav
I just checked your case and I see that it is still pending feedback from QA at this time. I have messaged them to see if there's an update and once I have new info on your case, I'll reach out here once more. Thanks for your patience!
I appreciate your patience until I consulted further with QA on this case. We have attempted to reproduce this issue in-house, but we have not yet been able to do so.
We'll keep working on the issue to see if we can get it reproducible, but if there are any other set of steps that would get us in this into this state, please do let me know.
I can easily reproduce it time after time. Hold the iPad in portrait mode and open Roon.
Keeping it in portrait fully close Roon (ie go into task manager and swipe it off) and reopen it. Rinse, repeat and within 3 or 4 attempts it'll open incorrectly.
The random bit is that it sometimes opens incorrectly first time.
Screenshot attached after my third attempt using the above process.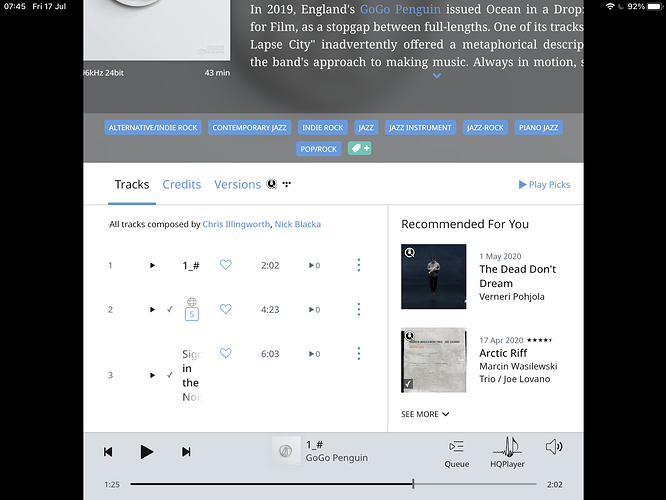 Hi,
I also reported this back in May on my iPad Pro 12.9". But since the ability to view Roon in portrait mode has been fixed (thank you Roon devs), I am no longer aware of the issue.
However, I can still reproduce this on my old iPad Pro 11" - and this has been occurring since the start of last year; it's a friend's old device that I bought and he uses Roon also and I know he was experiencing the same issue.
I agree with @dannybgoode, this has been going on way before 571 was released.
Point 2 in the below post:

Thanks for the additional info @Rory_Sharp / @dannybgoode, I'll let QA know, but so far they have not been able to reproduce successfully, we'll keep at it.
Is there a way to record what's happening on an iPad screen? Happy to record it if it's of any value at all…
Hi @dannybgoode,
Yes, there is a way to record this, please see:

You are free to submit a video if you wish, I have one from @Stanislav_Markovic already, but perhaps your video will help establish a pattern.
Hi @noris
I've submitted a video also and it's shared on my OneDrive:
It's recorded on an iPad Pro 11" 2018 WiFi device. It's fairly consistent with its reproduction as you can see.
Hopefully this, as well as the other user submissions, will help pinpoint the issue.
Cheers,
Rory
This topic was automatically closed 365 days after the last reply. New replies are no longer allowed.