Fletcher and Munson, Robinson and Dadson are right!
Equal-loudness contour sounds to my ears (and should for most homo-sapiens) far superior and much more fun if/when listening at <75dB volume levels (at the listening position).
JRiver with "Loudness" (the common name for equal-loudness contours implementation) just sounds much better to me. Unmistakably.
Otherwise - I prefer Roon, but not sure I could pass an ABX test all settings were equal. With Loudness enabled and calibrated - JRiver wins. Or should I say - Equal-loudness contour wins.
I assert that "Equal Loudness" should be implemented by Roon under DSP Volume* so that people who already use DSP Volume, or don't mind using it, would enjoy the substantial humanly detectable SQ improvement obtained from Equal-loudness contour curves.
*In JRiver it is also available only under "Internal Volume" which is the same as "DSP Volume" in Roon:
Other volume modes (no loudness):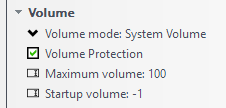 Internal (aka DSP) Volume (with loudness):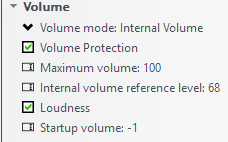 As for the simple SPL calibration required at the listening position -
Same goes for Room Correction right? Loudness calibration is among the simplest and quickest to do.
Those of us who care about SQ already have a calibration mic or at least an SPL meter.
A $24 Dayton Audio iMM-6 Calibrated Measurement Microphone for iPhone, iPad Tablet and Android will do a splendid job.
"An equal-loudness contour is a measure of sound pressure (dB SPL), over the frequency spectrum, for which a listener perceives a constant loudness when presented with pure steady tones. The unit of measurement for loudness levels is the phon, and is arrived at by reference to equal-loudness contours."
(https://en.m.wikipedia.org/wiki/Equal-loudness_contour)