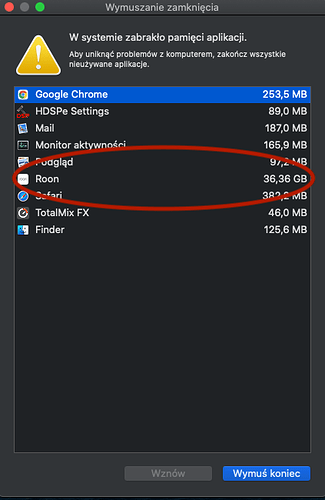 Roon Core Machine
macOS Catalina 10.15.7 iMac Core i7 3.5-4GHz with 24GB RAM
Networking Gear & Setup Details
Cable infrastructure, 1Gig to main router (optical fibre), zones via WiFi 1gbit. All on TP-Links devices.
Connected Audio Devices
USB DACs (a lot), some endpoints (PCs), Sonos, AP and Chromecast devices too. Works great with this environment until 1.8.x
Number of Tracks in Library
50k tracks
Description of Issue
No Roon labs, just no! Roon Core not light at all, but no problems with "resources" until 1.8xx ver. Hard to believe on Mac (Core) system with 3.5-4GHz Core i7 and 24GB RAM? Yes, but sadly true. Unacceptable!
And yes, I reinstall, and yes I upload my backups, and yes nothing change. Nothing. One more thing here: streaming sources work terribly. No link to Tidal every day. When I open Tidal app everything works good. No its not net error, its not PC error, its not too slow machine error. No. This is Roon error. My system sometimes must reboot (24/7) because freezings with Roon running. When I work without Roon all is OK, 24/7 rock stable. So?
And yes, I support this software from the beginning. Year subs here. Now I think I must choose different music frontend. What are you doing Roonlabs?! That software works simply brilliant until 1.7-1.8, rock stable, open in few second. Now I must wait 5 minutes (! sic !) sometimes. Sometimes because for example today only 30 second. But two hours later R.I.P Roon Core R.I.P. Crash, and now I play my music in Vox Player.
Do something or bye, bye…
PS. Always newest version of Roon Core here…