Hi New uploads doesn't appear in the library… how can I force a rescan of the library?
tnx…
Great tnx… !!
any idea why my latest uploaded albums doesnt appear in 'recently applied?'
isnt there an automatic scan or something? do i mis a menu?
If your files are on a NAS, then that's why.
Otherwise, dunno.
@support will have an answer, but they;ll need the form filled out that you first encountered when you posted in the Support section.
Where are you music files located? Are they on a NAS or a local HDD on the Core?
If this is a network share, you can configure the re-scan interval in `Roon Settings -> Storage -> Edit next to storage location -> Automatic Rescan Interval: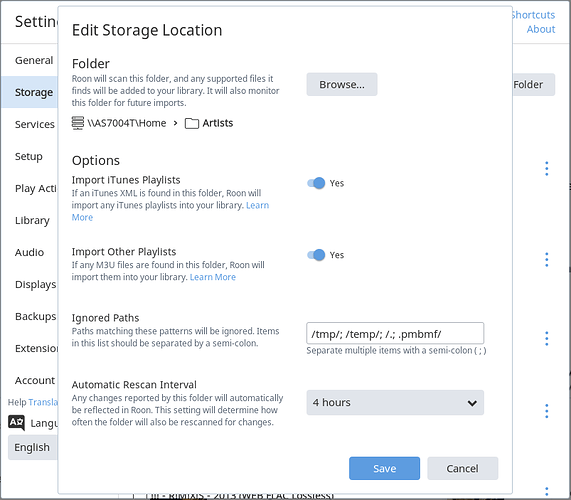 Also, please use this thread as a guide and provide some more information regarding your setup:

Well thats odd… I don't see an Automatic Rescan option in my version of Roon…(latest 1.7) on a Windows machine with a Qnap NAS !!!
How is the QNAP NAS connected to the Core?
Is it connected via USB or over the network?
Can you please share a screenshot of your Roon Settings -> Storage tab?
What kind of files are you trying to import? What is the file format?
This topic was automatically closed 365 days after the last reply. New replies are no longer allowed.