One to add to the list of recognized bugs:
And another one, addressing the malfunctioning "Only complete recordings" setting and missing counters for single albums in a library.
Removed:
It seems from a recent post, Roon are regarding the back button appearing outside of the menu as a bug:
@SimplicityCompass Just wondering: are you a human, or an A.I.-entity trained on diplomacy and friendliness? Anyhow, great job you are doing. Thx!
Thank you, your kind comment is very much appreciated.
This one took a while but has now finally been recognized as an issue.
Hi @Bped,
I'm seeing details on the compositions from the 'info' tab (iOS iPhone), I see this on your example from the topic: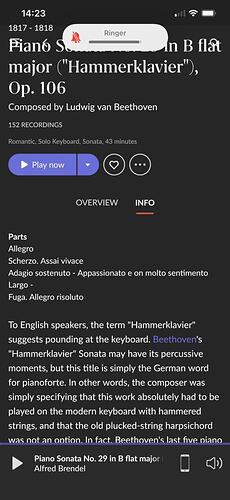 I would suggest posting again on your topic if it is still an issue for you, and I'll keep an eye on any further response from Roon. I'm not saying it isn't an issue for you, just that I haven't seen any other feedback that it wasn't resolved (apart from one like by @bbrip on your last post in that topic).
Thanks.
PS @bbrip in @Bped's topic above, could you confirm if the issue also hasn't been resolved for you?
---
Thank you.
Added:
Thanks @SimplicityCompass I had not seen the Info tab that initially was missing in v 1.8 but that has been added with the latest update. Case solved!!
This one has a ticket in. Just bumped it as noth8ng has happened here in quite a while
I'm going to leave that one off the list, as it is pre-1,8, but as I like saying, your post serves the purpose of giving it visibility.
I've made a few exceptions of course, but I want to keep the list as managable as possible.
Thanks.
Fair enough. It just feels safer on your list. I dont trust Roon's bug-tracking system. Too many things fall thru the cracks or get prematurely closed.
Not sure I agree with you about my list holding Roon to account, but thanks for the kind comment.

Of course I'll keep an eye out for any response from Roon on that topic.
I got a response from Dylan about the topics that was closed:
Just a reminder. Don't post in this thread unless your post contains a link to a new response by Roon staff regarding an issue in 1.8. If your post doesn't contain such a link it will be deleted.
This topic was automatically closed after 15 hours. New replies are no longer allowed.