I'm having the same problems. Rebooting ROON Core and hard rest does not help. What to do?
Hello @Albert_Ong and welcome to the community!
So we can better assist you, please provide a brief description of your current setup using this link as a guide.
Make sure to describe your network configuration/topology, including any networking hardware currently in use, so we can have a clear understanding of how your devices are communicating.
Also, we have noticed this issue occurring when there's something on the core or network blocking the connection to our servers. Such as a firewall, AV, or VPN. Do you have anything like that set up?
Have rebooted and also restarted ROON server. Does not help
I was experiencing the same issues, also with the Antipodes CX with the latest version Roon and latest firmware. Restarting the core had always helped but the problem always returns and last time it even persisted through the restart. Then I found the solution in a related thread: Red Warning, software needs updating
In short: "Roon setting and setup increase Memory for Photos/Artwork, restart Roon. Red warning is gone."
Hey @Albert_Ong, was Christiaan's solution in that thread helpful for you? Let me know!
I've already solved the problem before Christiaan's reply. In my SonicOrbiter OS, you go to apps and do a software shutdown of ROON app. Then Restart the app.
Problem goes away.
Hard power down of the server does not solve the problem.
So, somewhat similar to Christiaan's findings but since he is using Antipodes and I'm SGC running SonicOrbiter OS, slightly different way to reset the ROON App.
Hi @Albert_Ong, I think Christiann is referring to Roon Settings/setup … the Memory setting: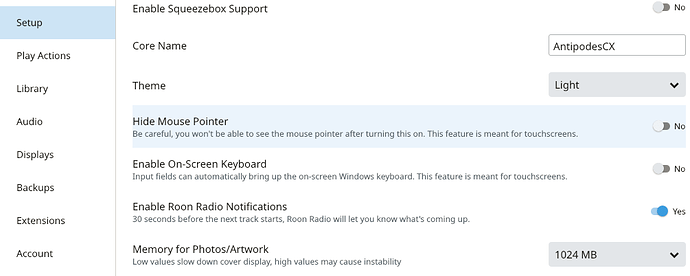 Thank you Chris and Tony, problem fixed!
Same here on a Mac Mini. Shutting down the RoonServer and restarting it makes the problem go away. The Qobuz album I was trying to add to the library is now added normally.
Hey @Luke23, just to confirm you're talking about the metadata improver message? If so I'll add your name to my list of people who experienced the message.
Indeed, that is what I was talking about.
I had same issue.
Go to Roon Core settings.
Click on "Stop Roon Server"
Then click on "Restart Roon Server"
This will stop above issue.
I've tried that in the first place and it didn't worked, now looks like is working. Thank anyway.
Update: even with the adjusted memory setting, the issue still pops up occasionally, usually after a restart of the CX and EX. Just checking Roon's About section I noticed that Roon also had an issue checking the CX's software version, see image below.


Shortly thereafter, Quobuz stopped playing and Roon displayed the below message:


Another restart of the CX fixed it again. Not sure now if this is actually a Roon issue or something to do with the CX or perhaps my network. The latter does seem perfectly stable otherwise.
Another update. After I got the above two issues again and even two successive reboots of the CX would not fix them, I restarted the Roon Server application in the Antipodes dashboard. That did the trick.
This topic was automatically closed 365 days after the last reply. New replies are no longer allowed.