Core Machine (Operating system/System info/Roon build number)
ROCK Version 1.0 (build 219) stable
Roon Server Software Version 1.7 (build 571) stable
Network Details (Including networking gear model/manufacturer and if on WiFi/Ethernet)
On-board LAN card connected via Ethernet to the Netgear Genie Windr3700v5 router
Audio Devices (Specify what device you're using and its connection type - USB/HDMI/etc.)
Aqua La Scala MKii Optologic DAC via USB
Description Of Issue
I was running Roon Server on a Windows 2012 R2 Server machine. I backed up the database and I built a new Core with ROCK version 1 OS. The Core name is VerseTrasport.
After the installation, I restored the database, and the original music folder is shown on the storage tab as VerseTransport > MusicLibrary indicating that "The drive is not available. Check the drive or edit this folder if it's been moved". Also, the ROCK internal storage folder is shown there. I formatted ROCK internal storage (a 4 TB Samsung SSD drive) and I copied to it all music files from my music file backup storage (a 4 TB USB external drive).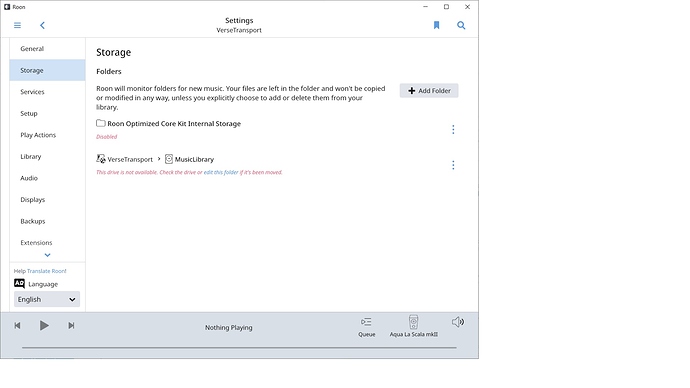 I have currently the internal storage folder disabled.
Since my music files are located on the internal storage I cannot change the path of the MusicLibrary folder to it because the internal storage path is not available in the corresponding browse window.
So how I can change the path of MusicLibrary to internal storage so as my original database becomes available again?
Thanks in advance