Feedback id: fd8ae3abd9e88bcb
Hey, my problem is that after making a fresh install of RoPieee 3.020 stable MQA playback started to lag (before that I had some older, 6 months older maybe version). It plays and then I can see on my SMSL M500 screen that the MQA logo disappears for a second and then comes back again. While that is happening the music stops playing for a part of a second too.
I'm not sure if this is related to RoPieee, but I have tried DietPi and got better results, but still, there was some lag. If I would need to compare, it would be RoPieee - 10 lags in a minute and DietPi 1 lag in a minute.
Anyway, there is no lag and music plays beautifully when I connect my DAC to a PC.
Sounds like a Raspberry Pi hardware problem? All ideas would help

My setup:
Roon -> Raspberry Pi 3 Model B Plus Rev 1.3 -> SMSL M500 DAC (via USB).
There is Allo DigiOne connected to my Raspberry, but it's not connected to the DAC right now.
I use iFi iPower power supply.
Internet connection via Ethernet port. At the time of testing the speed was stable 300mbps (of course not sure what was the speed inside Raspberry).
The signal path doesn't look any different from the one when I connect it to a PC: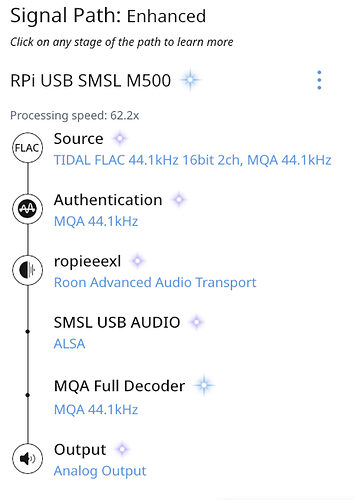 Here is the PC signal path: