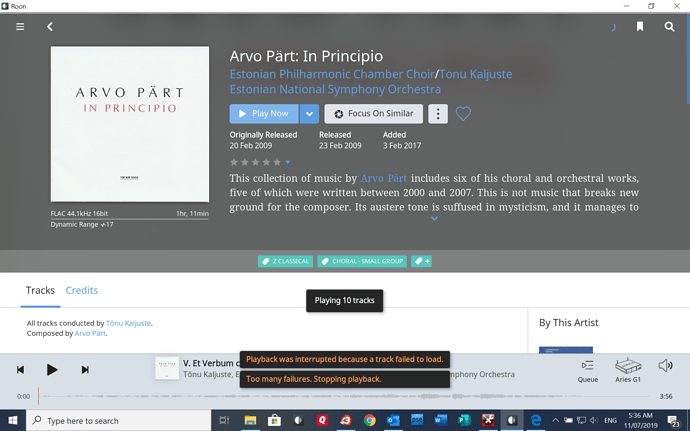 I recently switched to Windows 10 64 bit and just installed another "critical update".
Whether or not this is responsible I cannot tell but Roons behaviour has been a bit odd lately under Windows 10. I've had to load up the 16k albums and restore the backup a couple of times this last week.
The PC here is custom made with a Z87PRO motherboard and, ASAIK, is OK. I've used CCcleaner and System Mechanic to clear out rubbish and the report is that the system is "Good". Other PC functions appear to be working without issue.
Has the Roon program developed a glitch and needs reinstallation or ???
The little wheel top right is turning incessantly. I can access and play internet radio and all functions, except play, appear to be working for the music.
Suggestions please.
And I should add I've done the obvious reboot of Windows and reboot of Roon which is painfully slow to load

. All yield the same result - no music play.
LATER: All of a sudden Roon lost contact with drive R with all the music on board and hunted for music in Drive D. So I deleted those folders and it is again reinstalling all the music from the 8TB HDD, a process taking several hours + reinstalling the backup will take a couple more.
The whole Roon setup appears unstable.
Do I blame Windows 10? I've already had to effectively reinstall it under "repair" when a non Roon related problem arose…
But this is the first time I've struck problems with Roon with Windows 10.
LATER AGAIN: Still loading albums but they are now playing OK. Any clue what is going on???