Roon Core Machine
Roon Nucleus Plus. Ser # 94C591A018C5. There is a 4TB WD Elements external SSD drive connected for my library storage.
Networking Gear & Setup Details
Netgear Orbi Mesh Router
Connected Audio Devices
Connected via network cable (cat5) to MSB Select DAC. I am also connected via WIFI to a Naim Unity Atom, a Chromecast device, and to an Oppo UDP205.
Number of Tracks in Library
I think this may be the problem. I didn't know how many tracks I had until this issue happened and I checked and found that I had 205,000 tracks. I deleted one of my file folders that contained mp3 files and have now reduced it to 86,878 tracks that are CD quality or better. However the Nucleus still will access the drive or see it.
Description of Issue
The Nucleus doesn't see my SSD drive. I can't access any of my ripped CD's or any of my high resolution downloads. It is also not scanning the drive to look for new content.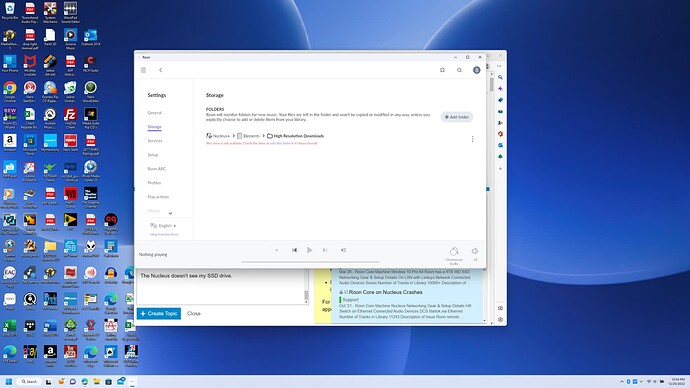 It also doen't see any folders when I try to edit the folder