After upgrade to Roon latest version, My Roon couldn't auto play related music when my album music finished
Do you mean you had Roon Radio turned on in the queue but it did not start playing anything at all at album end?
Not on the radio playing but on the normal album music
Am I missing something here?
Once an album or playlist or whatever you have in the queue is finished if Roon Radio at the bottom of your queue is not turned on…well that's it, it won't play any further music.
I think possibly this got turned off in an update, please check.
See pictures, I have it turned off.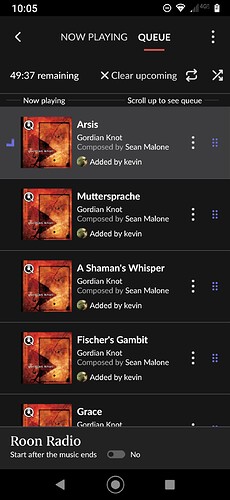 Or if it is indeed turned on already I wonder if your problem is similar to this reported issue?
Its still doing this despite Roon Radio being ON
BUT not all the time , work that one out !
Hi @Michael_Dai ,
Are you still seeing this issue at the present time?
This topic was automatically closed 45 days after the last reply. New replies are no longer allowed.